Last week began my cookie decorating workshops for this holiday season and we had a great time!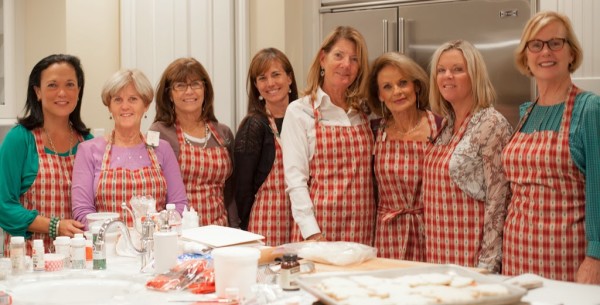 I was honored to be invited to teach a group of Newport Beach tennis friends who gathered for dinner and wanted to learn how to become cookie decorating rock stars. They were all so lovely, welcoming and enthusiastic that I could have easily forgotten I was there to teach!
Don't you love their matching aprons? Diane, the organizer of the evening and third from the left, made them for everyone as a special surprise. They set the mood for a festive and fun night.
For my special surprise, I shopped around and picked up goodies to add to swag bags. I love finding special things that students would like and can use in the workshop and at home. It also gives me an excuse to make bows which I love to do. 🙂 Ten of these bags on my table looked so pretty, what can I say?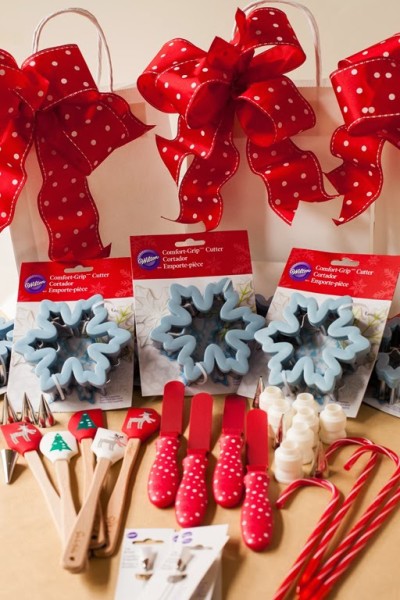 Wilton was very generous to donate many goodies I put in the bags – all the tips, decorating bags, comfort-grip snowflake cookie cutters, decorating pens, tip brushes and oodles of sprinkles, sparkles, and icing bag ties – anything I requested and I appreciated it so much. The cute holiday spatulas I found at Sur la Table.
I added to the bags a booklet I wrote to accompany the workshop which included recipes and tips for rolling the dough, making the icing, organizing cookie design ideas and decorating techniques. Thank you to my friend, Cathy, of Stitchfork Designs who graciously offered to get it publisher ready for me.
I found the cutest candy cane pens at Michaels to encourage note taking on special blank pages in the booklet.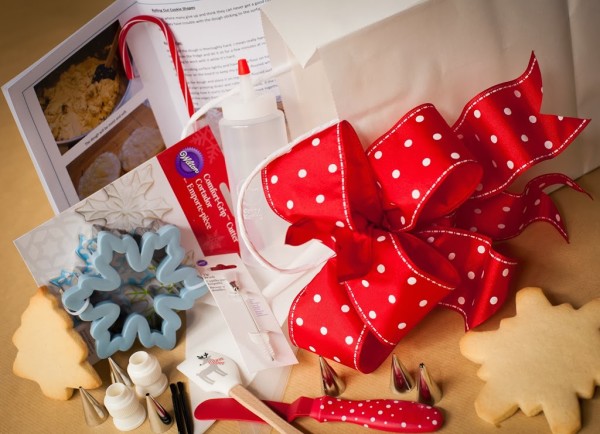 When I teach a workshop I supply everything for the participants to use and to take home to keep the decorating party going.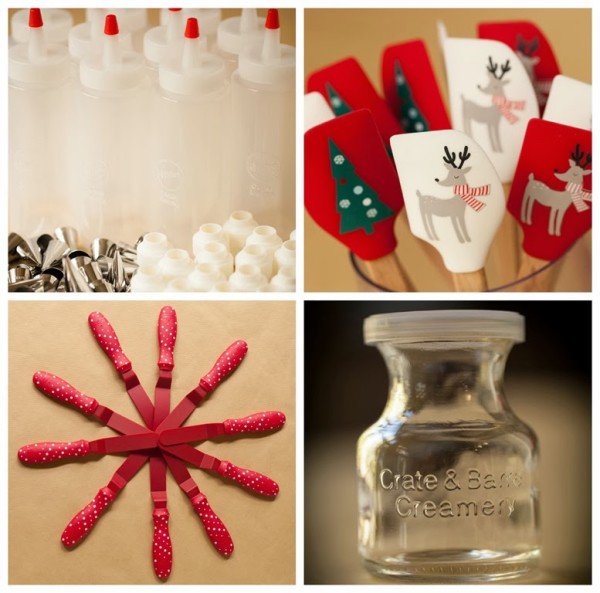 I made 12 cookies for each person to decorate.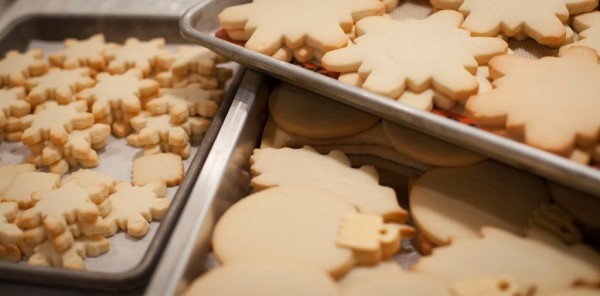 I also made samples of the finished cookies so the class could get an idea of what the cookies would look like. After the workshop, I offered them to anyone who wanted to take them home so I don't have any to show in this post but since I have another workshop coming up, I'll take photos this time. I always think I'll have time to stop to take a few photos but I usually don't.
I brought all the icing already tinted so we could jump right into having fun.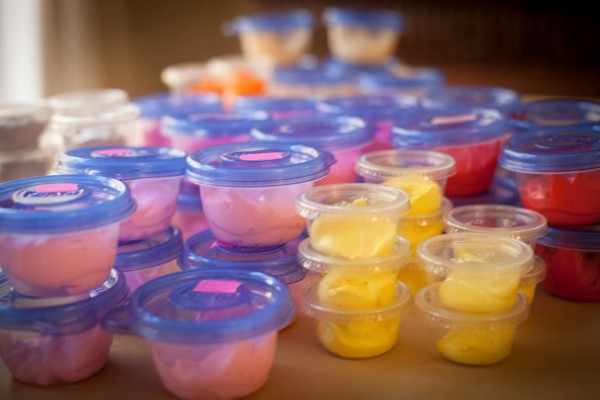 We had a dragee station and a Disco Dust and luster powder station.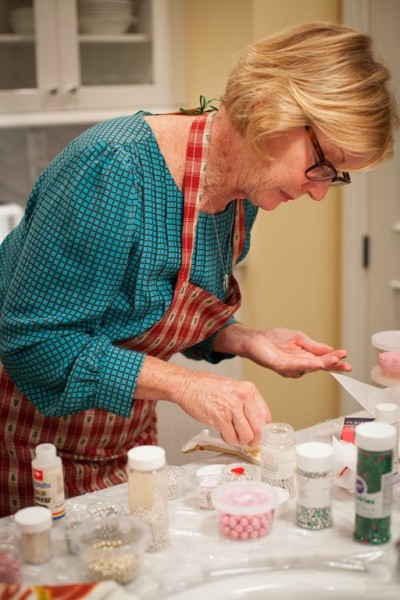 I made little boat parade cookie party favors since The Newport Harbor Boat Parade will be coming up soon. I'll post a separate DIY in a couple weeks but here's a photo of them drying. I used the cutest little Wilton candy holly leaves and 'berries' to add decoration to the hull. I loved these little gems. When the boats dry, names can be added to either a sail or to the hull of the boat.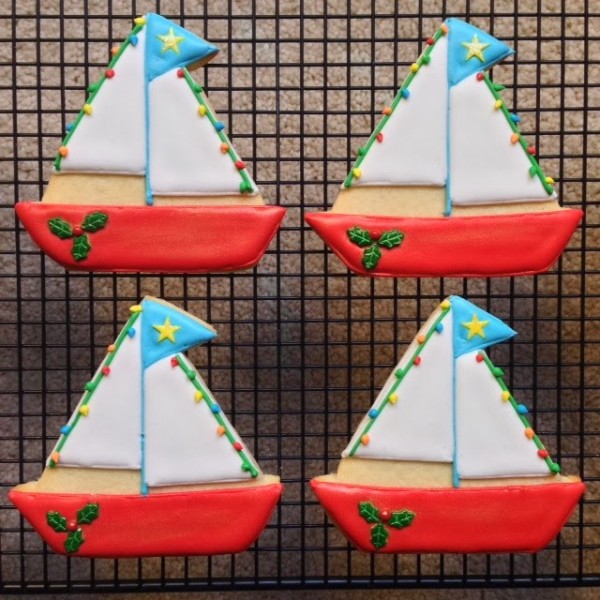 I'm so glad our hostess, Leslie, took my advice and covered all her beautiful white marble countertops with plastic wrap before we began. Not only did it save the marble from the potential of staining with the vibrant icing colors but when we finished late at night she rolled up the plastic and her counters where clean as a whistle. Whew!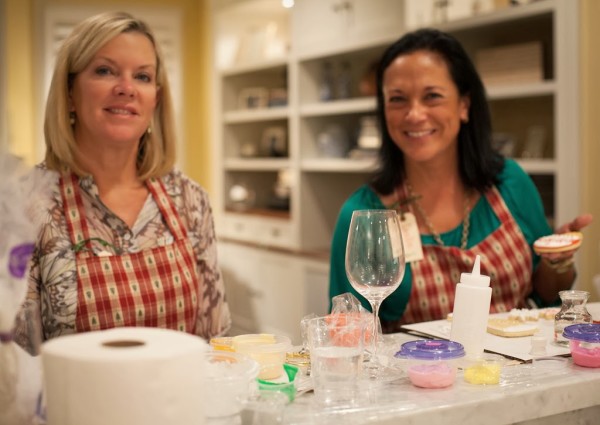 Oh, and today my photo of a decorated pie crust with the link to my DIY post and pecan pie recipe was featured with other pie crust ideas on Pillsbury.com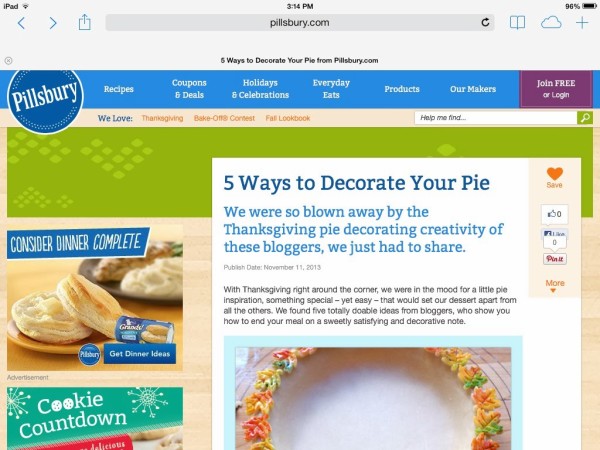 Here's the link for The Best Pecan Pie and Painted Dough Cut-outs. It's perfect for Thanksgiving.
More DIY holiday cookies to come!
Have a wonderful week. How many days until Thanksgiving? Can't believe it!