I hope your head is spinning with Halloween ideas! Mine certainly has been. I've been working on a project for Tiny Prints and although I can't give you a sneak peek just yet, I can show you some of the candy I used in the photo shoot.
I was looking for unique candy and edible decorations and found these: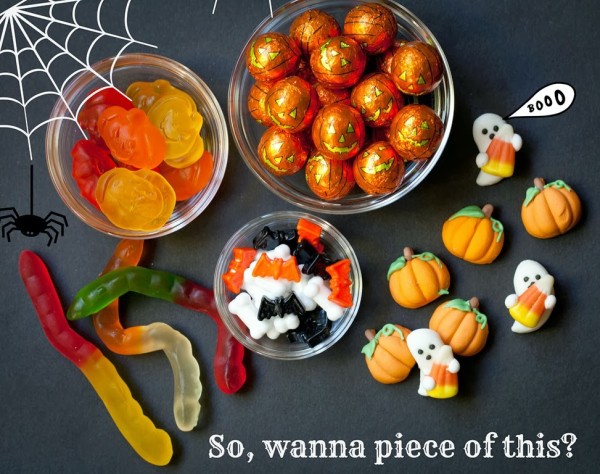 I fell in love with Wilton's pumpkin and candy corn holding ghosts. Did it pain me not to make my own? A tad, but I quickly got over it with five pumpkins to carve and cupcakes to make, so buying ready made decorations to put on my cupcakes was a real time saver. Besides, have you seen cuter little candy decorations than these? They also have Frankensteins holding candy corn and a butcher's knife for more of a slice n' dice Halloween theme, I suppose.
The ghosts and pumpkins are on the hard side of bite and seem to be grease resistant so they hold up very well sitting in buttercream frosting. I'm very impressed with these little guys.
Did you know West Elm has Halloween candy? I was looking for translucent candy and found the little smiling gummy pumpkins by chance. So cute and unfortunately, also yummy, causing an unexpected return to West Elm. Ugh. But how I can complain. It was West Elm and I love West Elm. Note to self: do not open any bags of candy until they need to go into the dish or you hear kids saying 'trick or treat' at the door. I should know this by now.
The chocolate balls with the pumpkin foil faces and the trio of orange and black bats with bones are also from West Elm. The bats and bones have a hard candy shell with great detail. You could mistake them for plastic pieces but once you crack through the outer shells, they're like Sweet Tarts.
The gummy worms I found at Pavilions, my local grocery store haunt.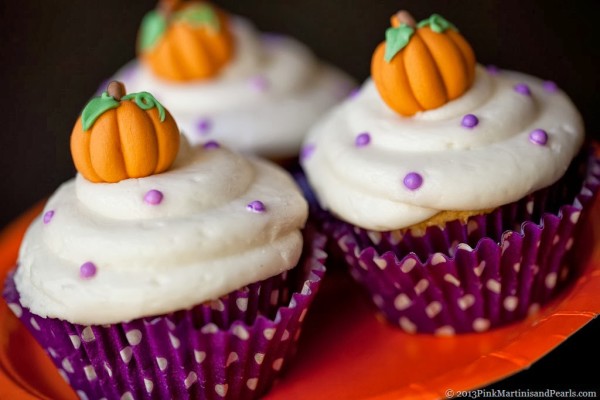 I made the cupcakes and buttercream on Friday. They were used as props to showcase other items in the photo shoot. They also made it back home in the back of a hot car and stayed there to slightly melt while I ate lunch and watched part of the USC game on Saturday in a sport's bar. What's wrong with this scenario? If you chose the sport's bar, you know me too well. Anyway, see how well the Wilton pumpkin decorations held up?
And guess what, a 3 day old vanilla cupcake on a Monday morning is pretty darn good!
Have a sweet day. I have to go clean my kitchen then it'll be time for another cupcake.
Note: This post was entirely endorsed by my taste buds only.