Hello!  Mid-September.  I cannot believe it.  Can you? I've been busy away from home for the past couple of weeks so I haven't baked a darned thing!  It does make sticking to a diet easier though and I'm the kind of gal who needs a creative diversion.
I want to share a fun thing I did for two days this past week.  I took a calligraphy and hand lettering class at the Sugar Paper studio in LA taught by Molly Jacques.  If you've seen the latest Bon Appetite you'll see her incredible work on eight pages!  Yay, Molly!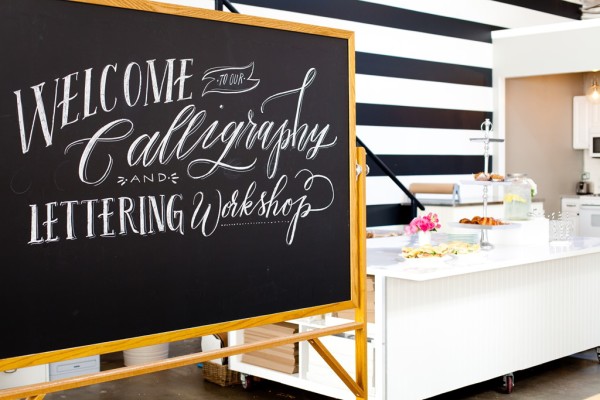 Powered by pastries, with apparently no thought of dieting, I began getting used to the calligraphy pen with a split nib making "U's" and "N's".  More pressure on the down stroke separates the nib creating more ink release and a thicker line.  A lighter touch on the up stroke produces a hair line.  It was quite fascinating, really, how this worked.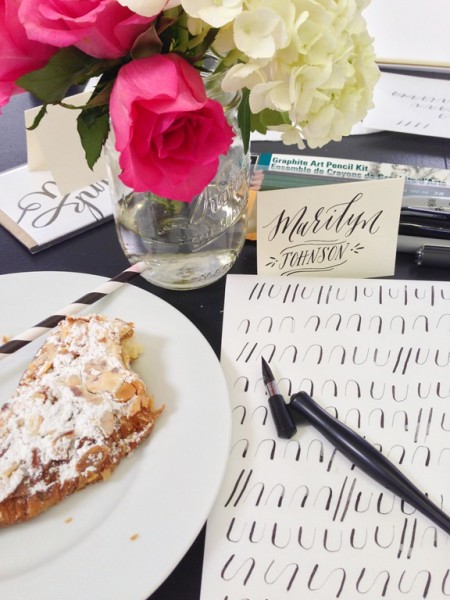 And the white hydrangeas and bright pink roses in a little Mason jar?  Right in front of me with my name tag hand lettered by Molly herself.  How lovely was this setting to create in?
I noticed all the little details around me – the scent and beauty of the abundance of fresh flowers, the softness of the Savon de Marseilles soap, the crunch of the layers of the pastry, the French Café station playing in the background on Pandora.  I felt as if  I was starring in a Nancy Myers movie and later that evening I would certainly be dining with either Alec Baldwin, Steve Martin or Keanu Reeves.  "Please, gentlemen. *blushing*.  Pick a (black and white striped) straw."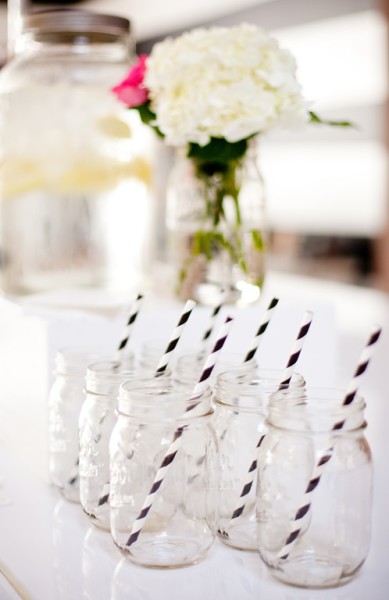 When we found more confidence among the macaroons and raspberries, we were encouraged to find our own style.  Quite a formable task facing a blank sheet of paper without a style to be found.
This was my first attempt.  I got lucky with one letter – "G".  Only 25 more to go – plus upper case, numbers and punctuations.  I hit the fizzy French lemon-flavored water after this revelation and added another mac to my pretty pink napkin.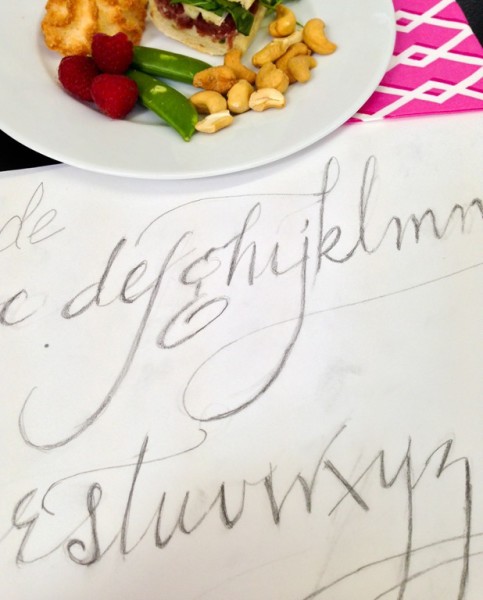 The next day we moved onto hand lettering with various pens where we were to come up with something to fill the page boundaries.  Since I'm working on a DIY project for a Tiny Prints Halloween invitation this week, I used their little ghosts for inspiration and filled in the spaces trying out different print styles.  It's far from being publishable but my goal was to have a nearly finished piece, at least in concept, at the end of two full days.  The three gals I sat with over the workshop days were graphic designers.  Seeing true talent is very inspiring and humbling and when you have a desire to learn new things you've got to be comfortable being the rookie.  That's something I'm very good at.  Perhaps this is where my true talent lies.  🙂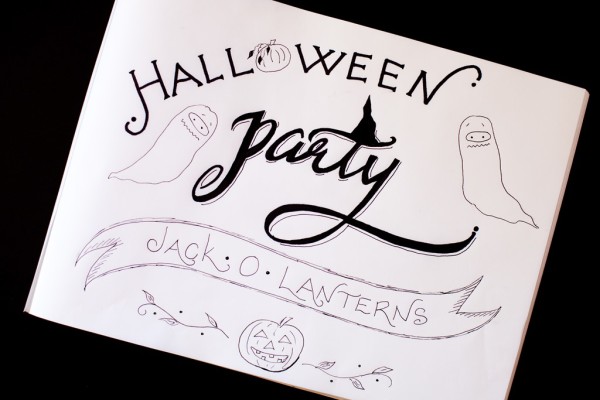 Inspiration was at every turn in the studio – in the organized bins that held colorful envelope liners, to the pink chairs, and wallpapers and the beautiful inspiration boards of Sugar Paper's designers.
This was Erika's board.  I wanted to read and touch everything on her board but resisted the slight compulsive urge to run my fingers over everything letterpress and shiny to be one with and settled for a photo instead.  Everyone was snapping pics of the boards.  They beckoned with bright pink and clean graphics held up with mini gold push pins.  I am so smitten I cannot tell you!  Do you have an inspiration board?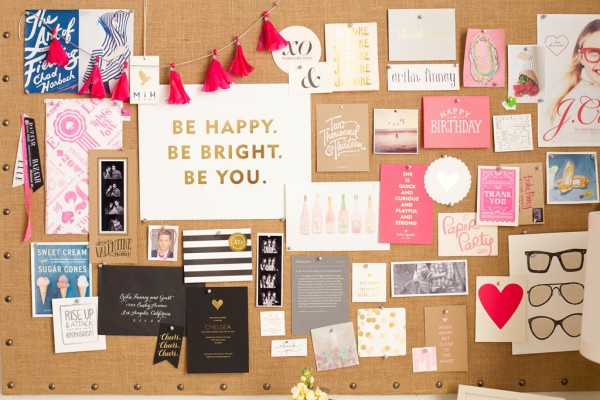 I found more color and inspiration across the room at another desk.  The letterpress gold foiled ampersand is on my wish list.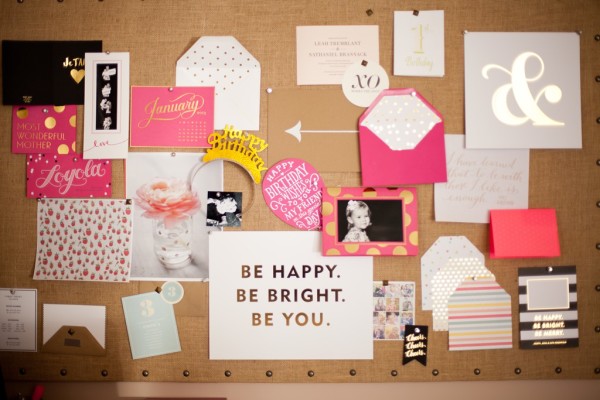 With every board I would gasp.  A color chart, a hot pink tassel, a flag tag made out of craft paper with a heart, the words 'New York City' in gold, a child's silhouette, striped envelope liners…  I could hardly catch my breath!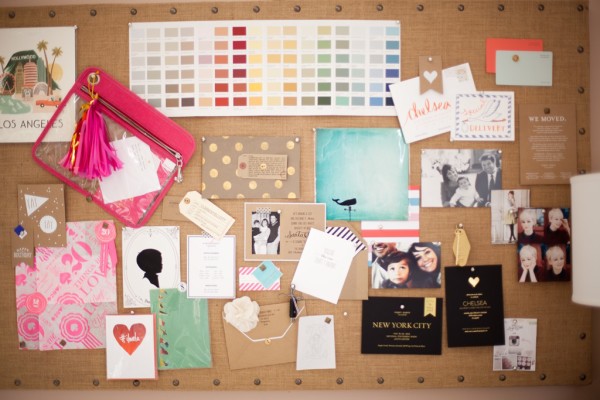 Even the lamp.  Perfect in its space not to detract.  And the bold black and white striped wall?  Love.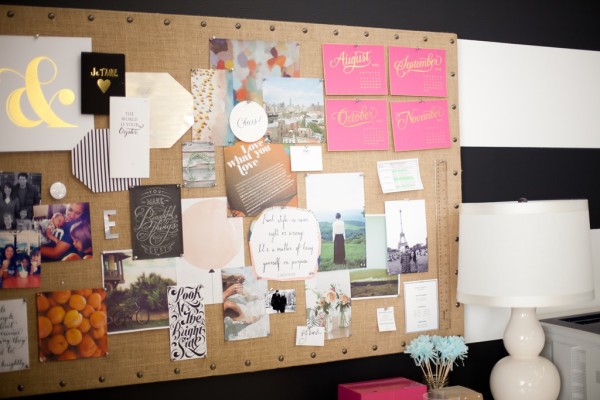 I could hang each one of these prints in my office and be very happy.  I have the gold confetti print.  Don't those little stamped gold foiled dots make you happy? I know you're smiling.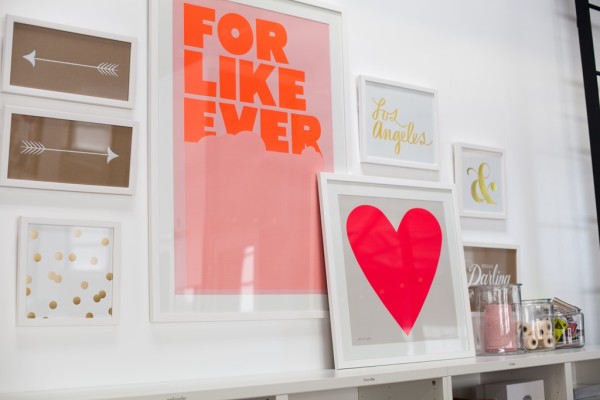 I was afraid they'd notice these chairs and pillows were missing and put 2 + 2 together and come up with me but I would have left a generous check under the gold stamped journal.  Really, I would have.  I've also been stalking this wallpaper for months.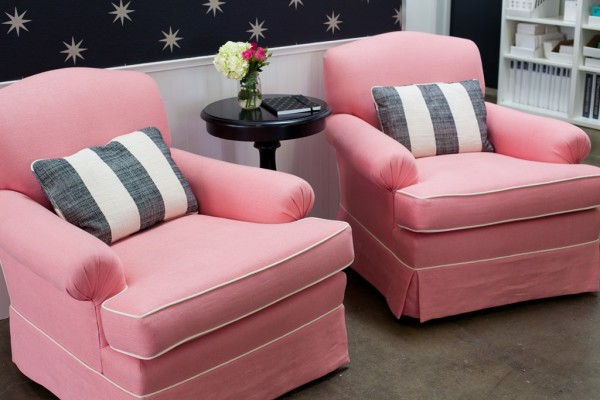 I ask you, how could water, flowers and napkins be placed together effortlessly and look like no other vignette could possibly be as lovely and meant to be?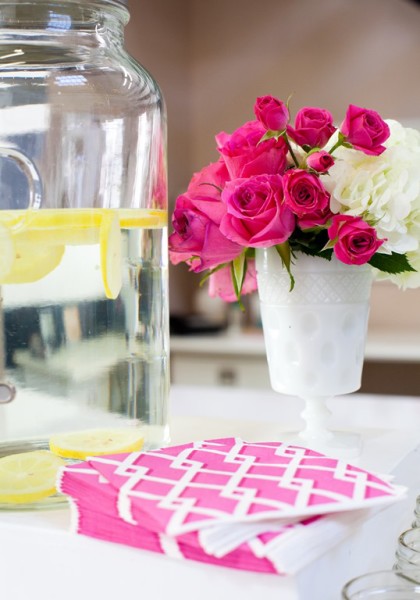 As I was driving back home to south OC Saturday night, I calculated in my mind how much gas money it would cost per week to work in Brentwood at Sugar Paper or at the studio.  I came to the conclusion as I passed LAX on the 405,  I couldn't afford it on top of the money I would be paying them to be an employee.
It's not meant to be, cheri, but merci beaucoup for a wonderful workshop in a truly inspiring setting on so many levels.