I noticed last week was Teacher Appreciation Week for our local schools. It brought back good memories of classes winding down and students anxiously awaiting summer vacation.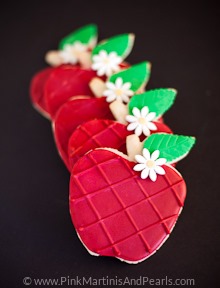 Last fall, I made these cookies to accompany a give-away but I never showed you how easy they were to make. Raise your hand if you're ready!
If you wish to make them like I did …
You'll Need:
Apple design template
Fondant – white, green
#3 decorating tip
Decorating bag
Decorating squeeze bottle (optional)
For the apple template design, I drew something that I thought would look like an apple with a leaf and cut out the template from card stock. Using the template as a guide, I cut out each cookie with a sharp knife.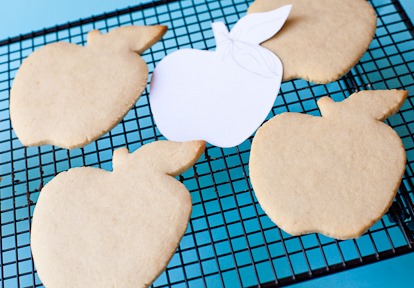 After the cookies were baked and cooled, I outlined the apple part of the cookie with red royal icing. My idea was to make a more sophisticated design, no polkas dots or smiling apples for this freshly baked bushel.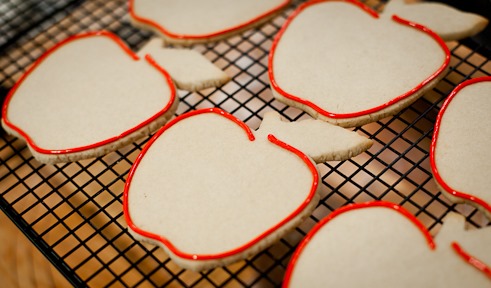 Fill it in with thinned royal icing when the outline has set – approx. 10 minutes.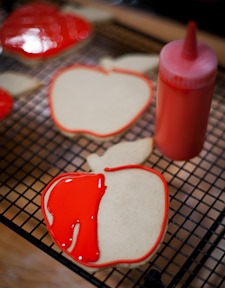 Uh-oh. I get an "incomplete" for not taking photos of cutting out the green fondant leaf and white flower but you can easily make the leaf with a fill in of green royal icing if you don't have the fondant.
When the apple base of red icing is dry, I made lines across the apple using a #3 decorating tip in a bag of red royal icing. The fondant leaf and white blossom was attached with piping gel but you could also use royal icing.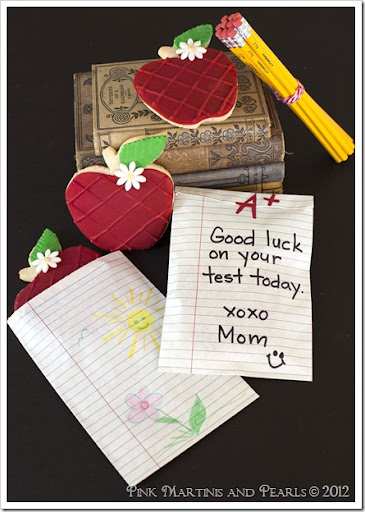 Hope you had a good holiday. Back to work and class today.
Have a good week and learn something new today! 🙂