Savory. Salty. Piquant. Soy beans.
The only vegetable I lick my fingers for.  Unapologetically.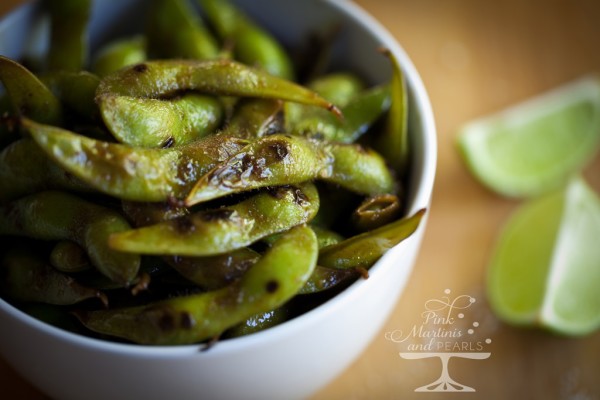 Easy.
Start with edamame (soy beans in the pod).  Buy them pre-cook or cook by your own method.  I like the kind that come frozen in the bag that's meant to go into the microwave to steam.   That's my kind of easy.
Throw the pods in a hot pan that has a little bit of olive oil to cover the bottom of the pan.  Char to your liking.  I prefer mine extra charred.
Splash citrus flavored ponzu into the pan.  Be generous.  Watch the soy beans dance and sizzle in all their  wonderful glory.
When you can't wait any longer to feel the nubby texture of the pods married with tang skid across your teeth and lips and the ponzu had been reduced a a glaze, through in the minced garlic amount of your choice, pepper flakes if you want a kick of heat and about a teaspoon of sesame oil.  Toss all together.
Place them into a bowl with their ebony glaze and sprinkle with coarse salt, Fleur de Sel or my favorite, lime sea-salt and experience munchy happiness.  An empty bowl for discarded pod shells that have served their purpose will be appreciated.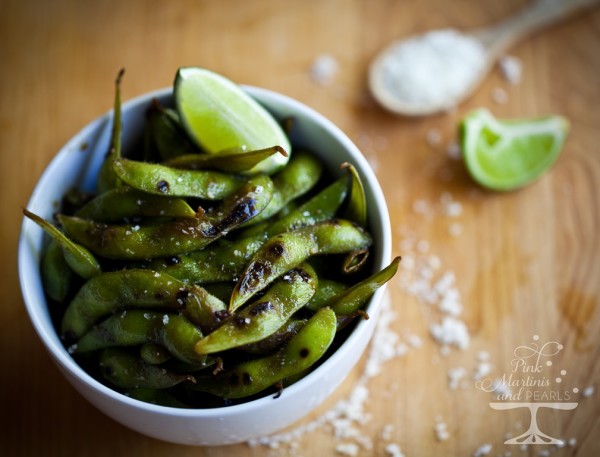 Accompany with an icy cold martini, Chardonnay or Japanese beer.  One at a time, please.  🙂
Enjoy a simple pleasure this weekend.
Edamame with Lime Ponzu
Bag of frozen edamame in the pods, cooked or fresh

Olive oil

Minced garlic

Lime ponzu (citrus flavored soy sauce found in the Asian section. Either lime or "citrus" flavor is fine.

Sesame oil

Red pepper flakes (optional)

Fresh lime juice

Coarse salt
See above for cooking instructions.