Thursday was going to be my meringue hearts day.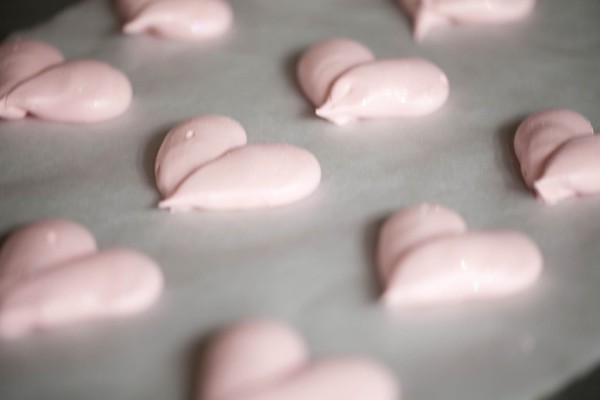 I woke up early, got my coffee going and headed into the pantry for supplies.  Out of the corner of my eye I saw a movement of black.  Ants!   And lots of them – every shelf, up and down across the floor into the kitchen and up again to a high stool reserved for my kitty who receives her morning treats while the coffee brews.  This morning, the ants were waiting for their snack too.  In 24 years I've never had ants in my walk-in pantry.  Not one.  Now I had hundreds if not thousands.
Throughout the morning I transferred everything out of the pantry rushing crawling containers outside accompanied by a few girlie screams.  Things crawling up my arms and legs will do that to me.
Friday, the invasion continued but was lessened with pumped streams of Kaboom!  although I couldn't spend the day on defense.  It was my first day in one of my classes.  I'm taking three classes this semester, Photoshop (again), In Design and Social Media somethingerother.  I may have been too zealous on the continuing education but everything sounds interesting at one in the morning while registering on the computer, doesn't it?
Sunday, the pantry was still airing out from the bug spray that I eventually had to use on Saturday.  I kept wishing they would have decided on their own they preferred to be outdoors ants.  They didn't and have moved upstairs to the bathroom sinks.  I don't want to think how they got there.  I'm taking the Scarlett O'Hara approach on that one.  I'm sure they will be there tomorrow.
The kitchen is still a mess holding all pantry items.  Every inch is taken except a pull out bread board which was enough to pipe out a couple sheets of meringue hearts during a commercial break.  They were turning out perfectly – pink, puffed and sparkling, until my husband, on a play-offs half time break came into the kitchen with good intentions, per my request, reset the timer that was going off and inadvertently hit the oven temp controls and increased the heat.  A few minutes later, I smelled the combination of burnt sugar and egg whites.  They weren't pink any longer.
I am bound and determined to make these hearts.  I have an idea that I think is going to be very cute – if I can ever get them made.  It's on the agenda to be posted by Tuesday or Wednesday.  I'll also be having a Vera Bradley give-away soon in the prettiest pattern.  I think you Vera fans will like it.
Let's hope all our plans get off to a great start today.