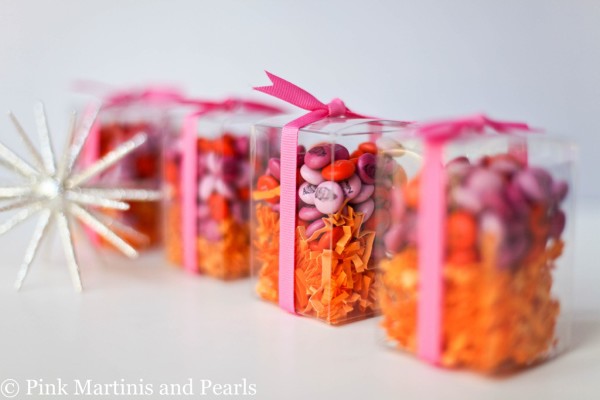 To continue the Palooza Birthday Party Extravanga prep, my next step was to package the custom Jeanapalooza m&m's in small cello bags but since I'm also making special decorated cookies for the party I wanted a different look for the m&m's.
I found these little clear plastic 2 x 3 inch boxes at a cake decorating supply store for .45 each but they are also available on the web, sold in bulk for half the price. I thought this might be the case and confirmed it after I returned home to look it up but since I was at the cake shop, I bought them. You know how that goes. Something about a bird in the hand and gas for close to $5 a gallon.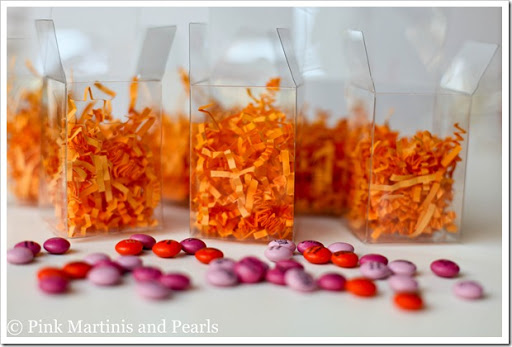 One thing I found out, as I was starting to fill the boxes, a 2 x 3 inch box takes a lot of m&m's to fill, really too many for party favors, especially for seniors. The reason I didn't go with the next smaller sized box from the 2 x 3 was that I thought it was too small for the presentation I envisioned. When I began to scoop the candy into the boxes, I wasn't prepared how quickly my 5lb. bag of m&m's was disappearing. I had to find a way to compromise.
I took a small handful of shredded crinkled paper (sizzle pack) and rolled it in my palms to compact it a little and placed it inside the boxes to act as a filler. Compacting the paper created a more solid base so the candy would sit on top as opposed to falling through it.
What originally took four handfuls of candy to fill one box now took two which made the m&m's go a lot further.
At first, I wasn't sure if I'd like the addition of the paper but it added more color and texture and I liked it! Since pink m&m's were the more predominant color, I chose orange paper to contrast and finished with pink grosgrain ribbon tied in a simple square knot with 'v' cut ends.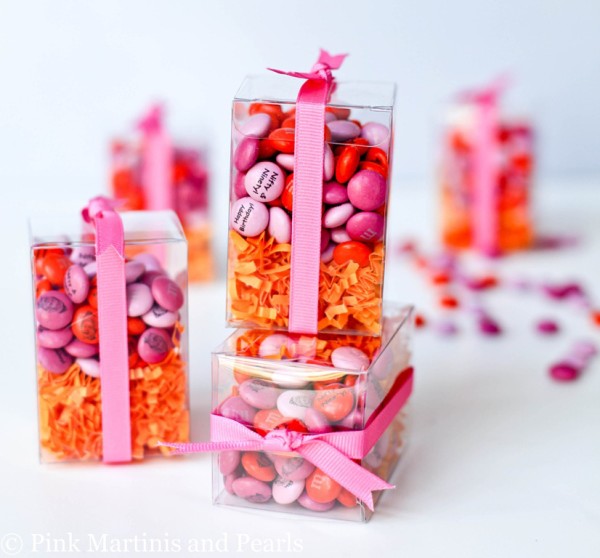 A plus for using the little boxes as opposed to a cello bag – they are easy to open and close, keeps candy neat and tidy, is an upright presentation that can be stacked or all lined up in a pretty row.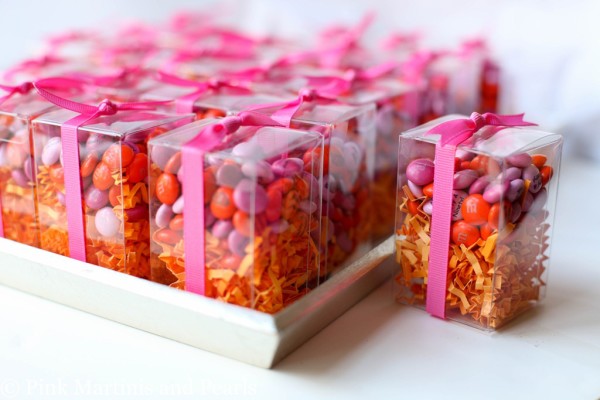 More Palooza Planning to come!
Have a colorful weekend, friends.
Thanks for stopping by!