Do you remember your favorite teacher?  Mine was in high school.  Mr. Purcey taught Health and Safety to freshman and Anatomy to upper classmen.  I was fortunate to have had him for both. 
On the first day of class, he told us everyone had an "A".  He then informed us it was up to us to keep it there.  His belief that we were capable began the year on an encouraging note.  He was the only teacher besides my forth grade teacher who smiled at the class and talked to us, opposed to 'at us', and seemed happy to be there.  I knew from that first day of freshman year he was going to be one of the great ones you always hope to get.
In the mid-seventies, Mr. Purcey was in his mid-thirties, married and a father to a couple young children.  Their juvenile antics were peppered amid the animated lectures transforming the class into a captive audience.  I don't recall the specifics of any story but I do remember humor helped thirty-two kids, who were picking at the zits on their chins, ease gracefully into the education of the perils of sexually transmitted diseases.  As if being dropped off in the morning by your mother while the boy you had a major crush on drove up in his Datsun 280Z wasn't mortifying enough.
After I had my first child, about fifteen years after my formative semesters with Mr. Purcey, I decided to write him a letter.  He had been at the administrative level at the district offices for quite some time which, unfortunately for students, is where all the great ones seemed to quickly migrate to at that time in the district.  Still, after all these years, I wanted him to know the importance and influence that helped to shape me at thirty.
I thought about the fact that his children were at the same place in their lives I was back then, and I had hoped they were experiencing an exceptional teacher as I had.  I shared with him the science route I had taken in college being a direct result of that spark being lit in his class but what I really wanted to share with him was simply, he was my favorite teacher and being that my formal education was complete, I wanted him to know he was also the best.  I had been truly blessed to have known this man as my teacher. 
In our limited time together over two courses, I saw a man who smiled when he showed us a photo of his wife.  I felt the joy and happiness he found in being a parent.  I experienced a man who had passion in his work thus easily connecting with his students to develop trust and rapport.  As a freshman, I thought he was going to be one of the great ones.  I was wrong.  He was the great one.
I never expected to hear back from Mr. Purcey but I did very quickly.  I opened the crisp paper folded in thirds noticing the black ink on the formal letterhead on the school district's stationery.  He was surprised to hear from me and very touched.  He had shown everyone in the district office my letter and had it framed to hang in his office.  It had made his day.  He corrected himself, it had made his week.  He thanked me for taking the time from my life to let him know.  He said once again, how much this meant to him.  I've always wondered if I should have sent a quick note thanking him for his letter.  I never knew the correct etiquette on thanking someone for their thank you note.  I would have written his letter meant equally as much.
With the school year about to commence, Mr. Purcey is in my thoughts.  I realize twenty-five years has passed since we wrote our single correspondences.  Curiosity lead me to the blank, long rectangle search box with a blinking cursor.  I believe I found him again.  He is seventy-five, was nominated for an educational medal of honor for his contributions to education and volunteerism, is an educational author of 21 publications, holds a PhD, was an Associate Superintendent with my former public school district for thirty-five years, a Professor with the Cal State University system for forty-two years, a husband to the mother of his children and a grandfather whose grandchildren, if my calculations are correct, are not far off from their formative high school years, hopefully, to find their own spark with the help of an encouraging teacher. 
Of course, in my search results, this could have be any exceptional man out there named Mr. Purcey, but I found something else, a characteristic encouraging quote left in the comments section of an online educational magazine.  The comment ends – "keep up the good work." 
Only a teacher and a great one would leave a comment like that.
Who was your favorite teacher?
In honor of the new school year, I'll be hosting a fun, crafty give-away with a goodie from Xyron to make your own stickers and something special from Whisker Graphics along with a back-to-school decorated cookie tutorial.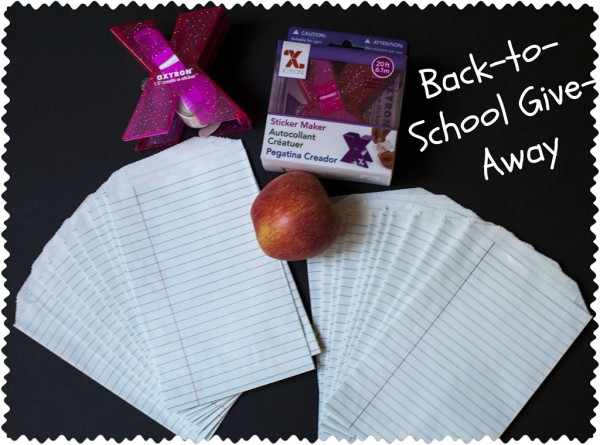 See you Wednesday for the Give-Away!
Have an A+ week!