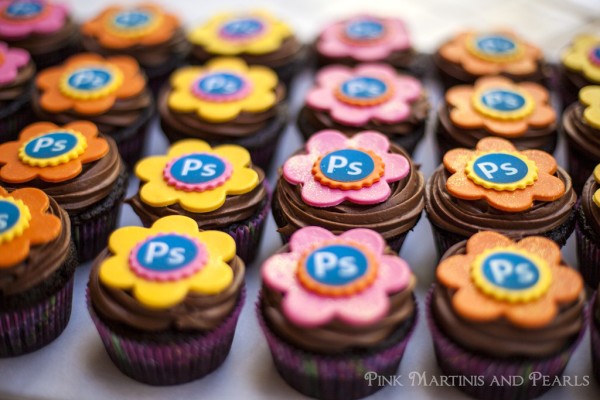 Well, it's official. I'm certified in Photoshop which means I'm akin to a first year med student who knows where all the major bones and organs are but is not confident or capable to perform brain surgery. I knew there was a lot to the program but I never knew there was this much to it. Even though we barely scratched the surface, I learned an exorbitant amount thanks to a wonderful instructor, Jon Haverstick, who, besides being an incredibly talented professional photographer, is also gifted in the art of teaching others. Really, that is a true, rare, talent and one I am sincerely appreciative of since I tend to ask a lot of questions.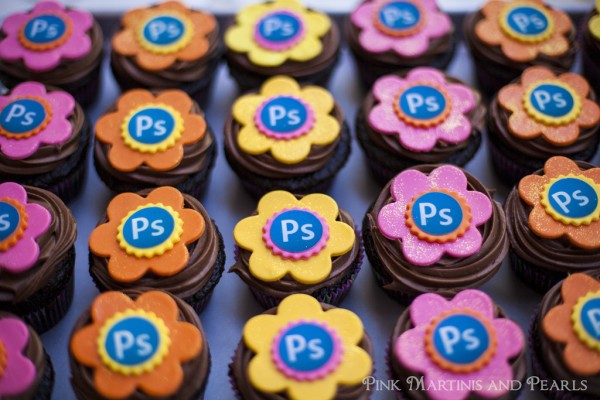 I decided cupcakes would be nice to share with my fellow 'survivors', as we were affectionately referred to, in honor of our last class where we received our certificates. If you recall, I took a Photoshop intensive class 4 nights a week, 4 hours nightly for 4 weeks. It was a big commitment after working up to the time I had to leave to sit on the freeway over an hour just to get there and not seeing my family until 10 PM if they were still up by the time I got home, but it was thoroughly worth the effort.
The Design – I wanted the Photoshop "PS" logo to be incorporated in the cupcake topper but just as important it had to be relatively quick and easy to make since I only had a few hours to bake and decorate before heading out for our last session.
Knowing chocolate is the universal favorite, that would be the cake and icing. Cutting out fondant flowers, centers and printing out the PS logo in edible ink and edible paper would be the 'quick and easy' to make while the cupcakes baked.
The Cupcake Toppers – I choose a flower shaped cookie cutter that would fit the top of the cupcake and a smaller scalloped circle cutter that would hold the circle-cut PS logo. I found the PS logo online, copied it to Word, resized it to an inch square to fit the smaller fondant circle, printed it and cut it round.
Colors – For the fondant color combos, vibrant summer hues – hot pink, bright yellow and orange were the way to go to pop the blue logo. The individual colors were made by kneading Americolor cake decorating gels into the fondant.
Assembling – To get the fondant circles and the edible logo to stick to each other without adhering them with piping gel or water making them gooey, I used my hand held clothes streamer and gave the fondant rounds a quick couple passes of steam. The steam makes the fondant tacky for awhile and shiny. It also gives the fondant a perfect surface for a sprinkling of Disco Dust. I then placed the PS logo on top of the smaller rounds. The toppers were done!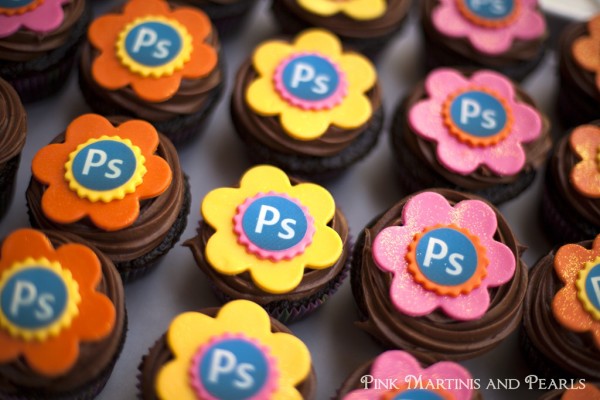 They apparently were a big hit. People were taking out their phones and taking pictures and were very gracious to thank me for bringing them. That was so unexpected and so very nice of them. I thought I'd be able to take any left over home to my guys but there weren't any left!
I'm continuing with my education and signing up for a digital photography class and Adobe Illustrator class. Both begin the end of August and run through December. I'm enjoying learning something new that interests me although it takes me away from the kitchen more but it also makes me appreciate returning to my KitchenAid for fun projects. I hope to start one of those projects next week using the cutest mini cookie cutters you ever did see!
Have a sweet weekend!