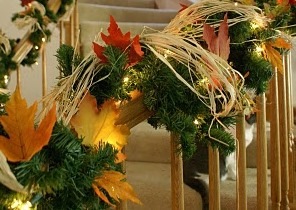 I've gotten quite a few search referrals on decorating the stairs for the holidays so I've edited a post from last year that gives a great idea to make it easy for both Thanksgiving and Christmas.
Have you ever thought about how to simplify Christmas decorating when just coming off of the whirlwind of Thanksgiving entertaining? My normal routine after having hosted Thanksgiving dinner with all the trimmings the day before is to crash the morning after. My breakfast will include coffee, pecan pie (if my boys haven't gotten to it first) and any two or three extra-strength pain relievers. It's become my "transitional tradition" over the years. It takes me to the next level of fa-la-la-ing decorating for Christmas that's scheduled to commence later this morning. If I'm feeling particularly overwhelmed I'll tackle it after lunch of, um, more pie.
I always start with the hardest thing first, the stair bannister garland. I stand at the bottom and look up. I know what's coming…big boxes taken out of the crawl space under the stairs from the closet, coats displaced on living room furniture, stepping on little pine needles until I'm finished and can vacuum. Blessed be my Dyson. It's the most cumbersome task but after 23 years of doing the decorations dance with my banister the morning after Thanksgiving it still gives me the most holiday spirit when it's finally up. But this changed last year, or at least the morning after part.
Thanks to a conversation I had a year ago while sitting on the Tesoro bleachers when I went back to see the marching band perform where football players happened to be on the marching field (old music boosters joke), one very savvy multi-tasking marching band parent told me she puts up the garland on the stairs before Thanksgiving and then adds raffia and colored leaves for the fall decorations.
Brilliant!
Hearing her say this was like my personal V-8 moment. Why hadn't I thought of this all these years?!? So I tried it. Not only did the backdrop of muted greenery with glowing, sparkly lights and rustic look of the leaves and raffia add tremendously to the warm and cozy celebratory feeling during our Thanksgiving dinner , it made the task of beginning the Christmas decorating the day after much more pleasant and manageable and therefore, reduced my pie consumption as well.
Benefits all around.
Do you do anything special to make the holidays easier?