This is where I am today. This is where I've been all week. I'm second guessing all my design possibilities for a vineyard wedding. The save-the-date announcement was decorated with a wine bottle cork so I thought I would tie the cookies into the theme. The cookies will be attached to the front of the out-of-town baskets. No pressure to be front and center!
The creative process has not exactly been flowing as smoothly as thinned royal icing.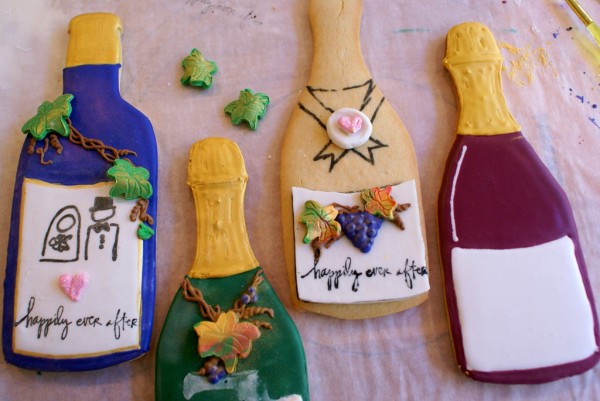 I started with my template cookies.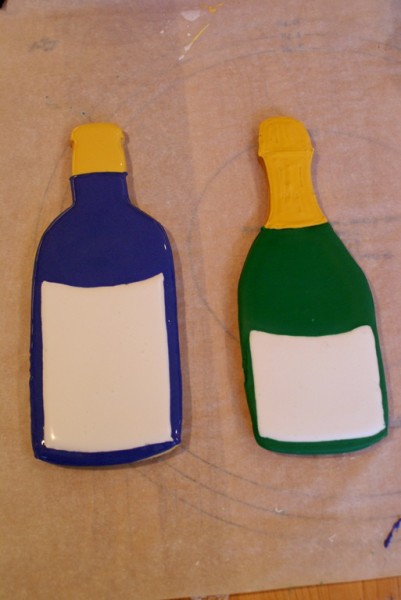 I found out "shrinkage" also applies to the neck of cookie wine bottles when baked. It went into the oven as a wine bottle and came out looking like Dr. Feelgood's tonic bottle. The champagne bottle remained in tack.
I fell in love with the bride and groom stamp and used it on the label. This gave a more whimsical feel to the cookie but something was not sitting right with me.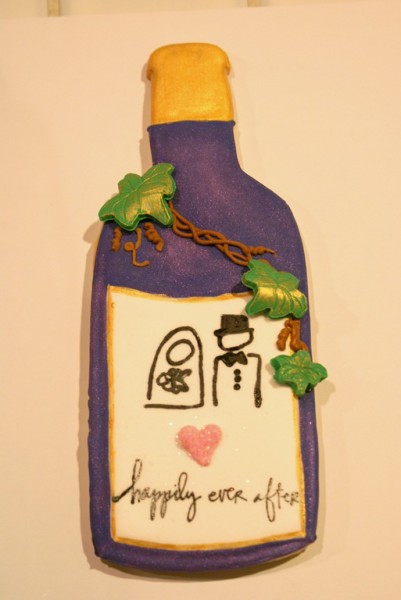 I tried an idea I had for rolled fondant to look like colored fall leaves. I'm using this techniques for a hundred cookies I'm making for a landscape trade show due next Tuesday. I haven't started this little baking venture yet. When I'm creatively blocked time stops until I can figure it out. Is it just me?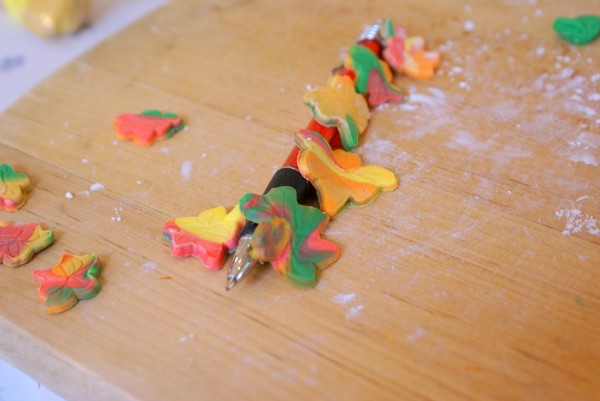 I came up with the idea of a wax seal made of fondant with a heart center. I'll add icing ribbons to the bottle but I'm stumped as to what color to use. The bride's colors are burgundy, navy and blush pink. I've tried navy icing and the color isn't right. It turned out more of a denim. Even adding black didn't help so I'm still stumped.
I made false fondant labels so I could interchange them to see how I liked different ones. One sticked and I had to pry it off. It was too big anyway but it took the bottom of the cookie it with. Not pretty. I also tried a leaf for the seal location. Even though I didn't waste my gold powder on it, it's not doing it for me. Reminds me of something Mr. T would wear. lol!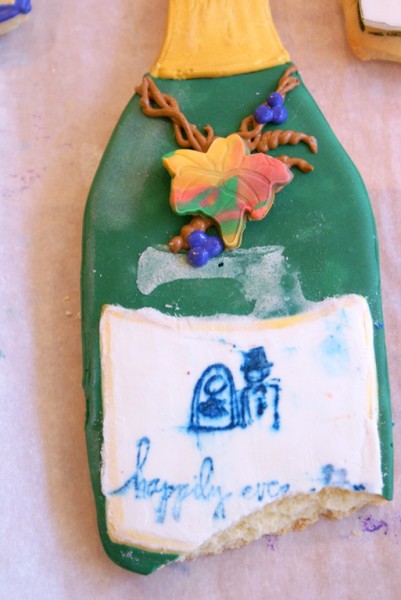 I think I've decided to go more sophisticated with a 3-D effect on the label using the colored fondant leaves with piped grapes and vines. The icing was wet when I took this photo so I couldn't put everything together.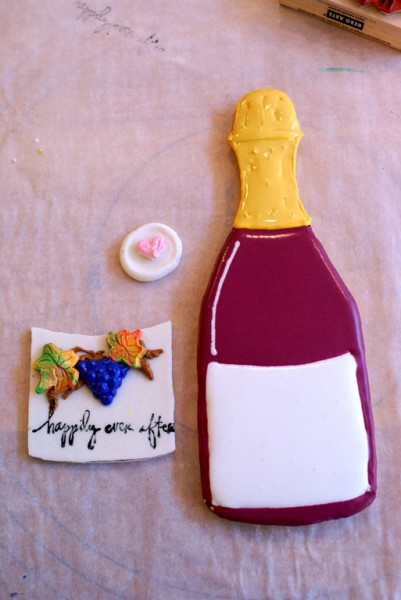 I'll use the bride and groom stamp for a tag when the cookie is tied and bagged. The seal, I think, will be the blush pink with a light pink piped glittery heart. The icing ribbon color that the seal will be placed over? I haven't a clue.
Got any ideas?
Update: My friend Suzi came by and we started to play with the cookie and sample paper labels.  She agreed with me the above look was "too winery" and not enough wedding.  This is what we came up with.  I think I'm going with it with maybe just a few dots of color near the vines.  Tied up with a pretty pink ribbon will be fun and wedding-ish with just a touch of the bubbly.
Thanks Suzi!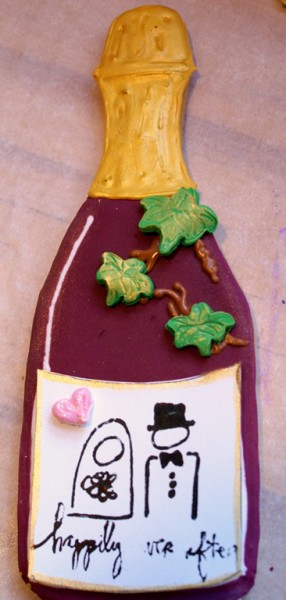 My Meri Meri Touchdown Cupcake Kit give-away continues while I bake away.
Enter here!
UPDATE:  To see the finished cookies click HERE!