Green with envy ~
My bestie is meeting the Duke and Duchess of Cambridge tomorrow in LA.
Although she has met the Queen and the Duke of Edinburgh it doesn't compare to the excitement she's feeling to meet the newlyweds.
She was given her "instructions" as to how to greet William and Kate ~
"…when you first meet the Duke and Duchess you should refer to each as "your royal highness" or if they are both together "your royal highnesses." If you are then talking to them a second time that evening, you would refer each as Sir or Ma'am."
In my American way, I do believe calling someone almost young enough to be my child "Sir" or "Ma'am" would prove challenging but I wouldn't be surprised if William and Kate would say, "Just call us William and Catherine."
Being the bracelet lover I am, I told my friend to be on the lookout for this little number ~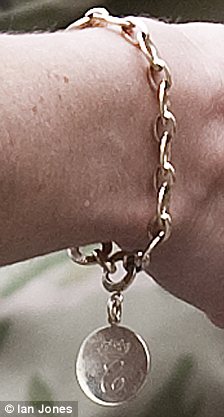 The charm bracelet reportedly given to her by Camilla with Kate's script "C" wearing a crown and Camilla's "C" monogram on the flip side encased in a circle also wearing a crown.
Perfect on all fronts ~a charm bracelet, a monogram and a crown.
Tickled Pink ~
I am thrilled for my friend and I can't wait for the recap!
She'll be writing a guest post so we can all know what is was like meeting William and Kate.