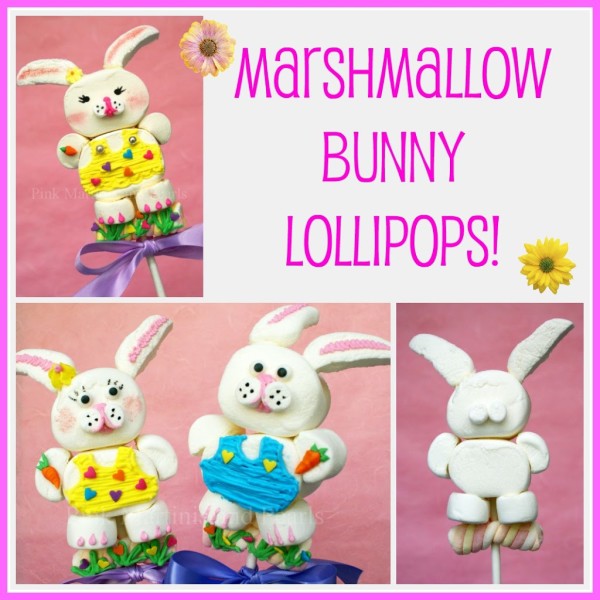 These bunny marshmallow pops are perfect to find in an Easter basket, for spring time bake sales, as a friendship gift or to make with the kids!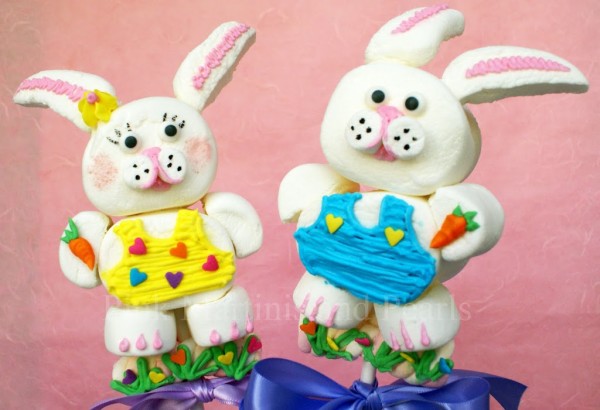 Here's how and what You'll Need: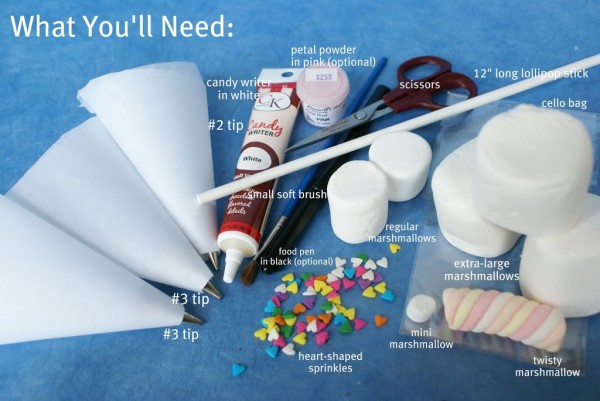 3 extra-large marshmallows
2 regular (large) sized marshmallows (the kind you find in the store)
1 mini marshmallow
1 twisty marshmallow
candy writer in white. This is not frosting but candy coating.
pan of hot water, not boiling
12″ long lollipop sticks, 1 for each bunny

pink petal dust (optional)
black food pen (optional)
heart shaped sprinkles (optional)
2 – #3 tips
1 – #2 tip
decorating bags
royal icing decorations (optional) purchase or make your own
-carrot
-drop flower
-eyes
damp cloth
scissors
cello bag
ribbon
Start by moistening the stick with a damp cloth. Not a lot. Just slide the cloth over the stick a couple times. This will help your marshmallows not to stick as you put them on.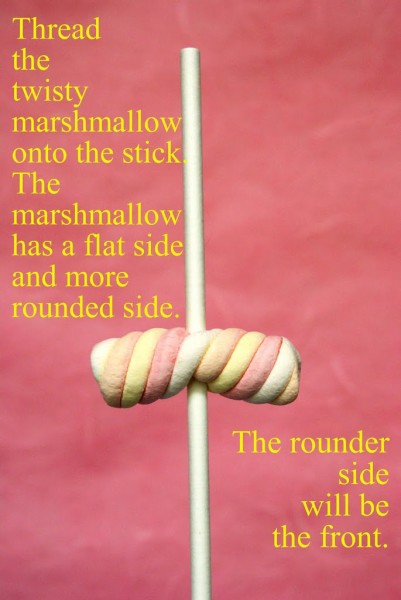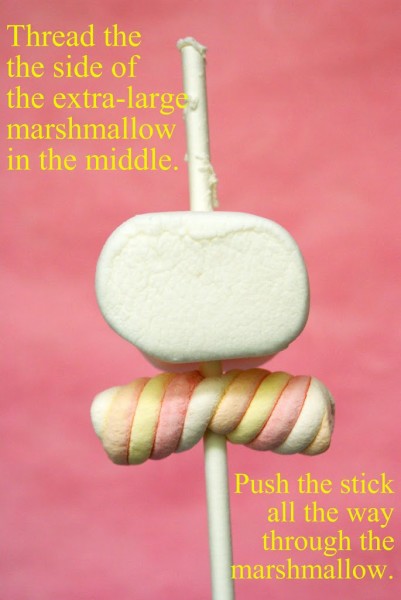 Take the second extra-large marshmallow and start to thread it the same way on the stick as the first but
do not
go through the top. When you feel the top of the stick near the top of the marshmallow but still inside of it, stop.
Here's where the candy writer comes in ~
Every place where marshmallows touch eachother will be 'glued' together with the candy writer.
When I say 'glued' I mean using the candy coating.
Everything is edible on this lollipop except the stick!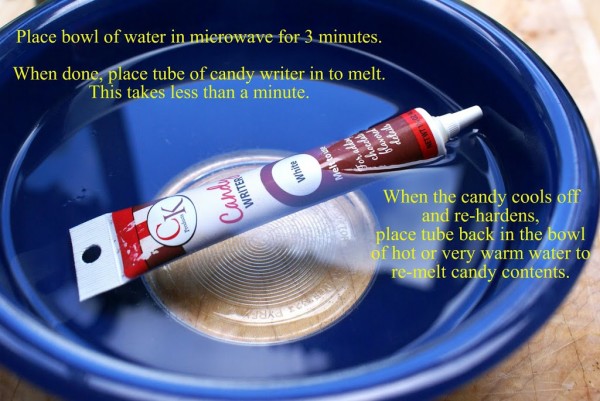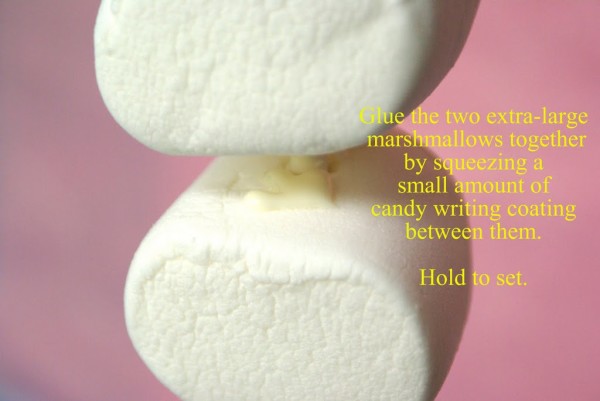 7.
Don't mark your marshmallows.
I just did this to show you which way to cut.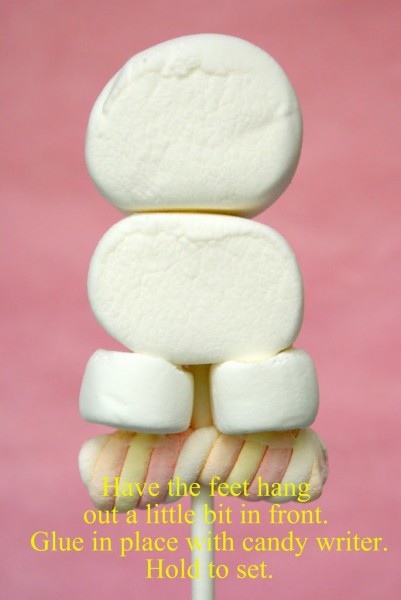 Next, slide up the twisty marshmallow and glue this in place. Hold to set.
10.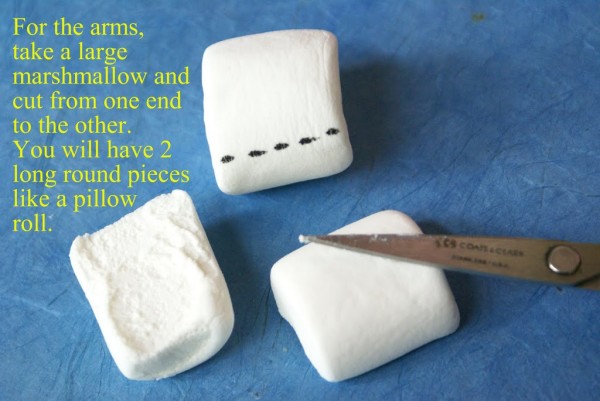 11.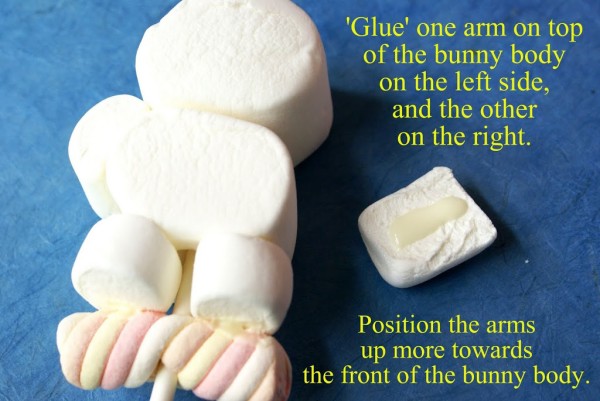 Here's what we should have so far.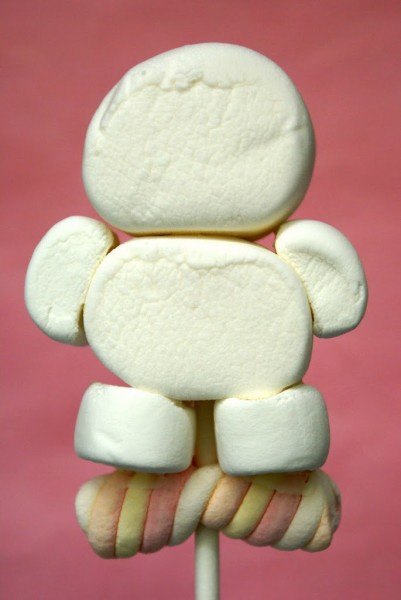 The next couple of steps is where you'll see your little guy or girl really develop some personality!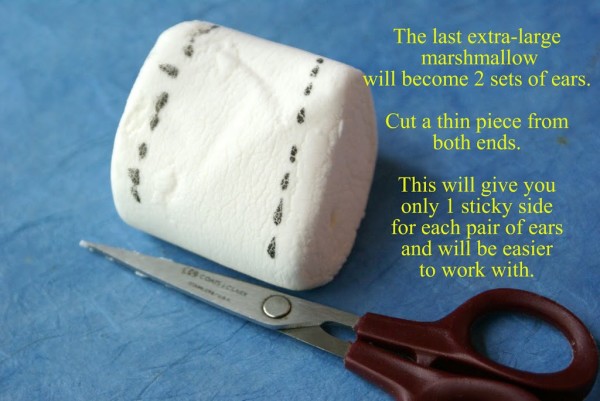 Which side of the ears will be in front is according to your preference ~
the sticky side or the non-sticky side.
Some ideas for you ~
if you go with the sticky side you can press the sticky sides in pale pink sanding sugar. If you go with the non-sticky side you can draw a line or two of pink royal icing or use pink petal powder.
I show both of these.
If you want them plain you can always dust the sticky side with a small amount of corn starch and they won't be sticky anymore.
If you're making a bunch of these cuties, make them all different!
13.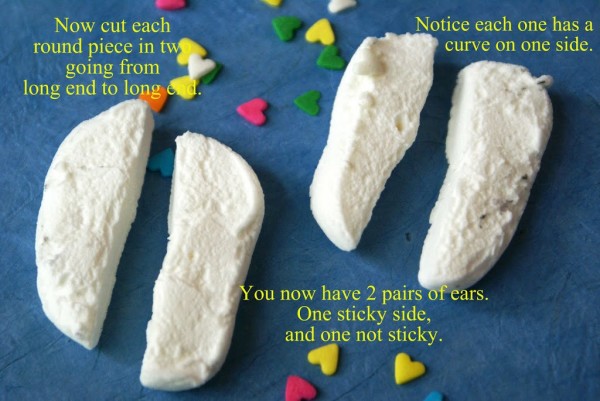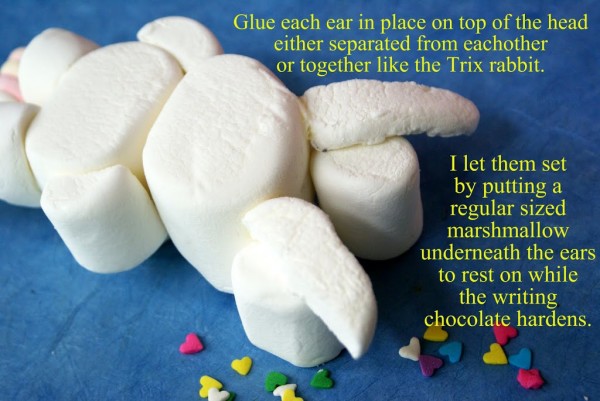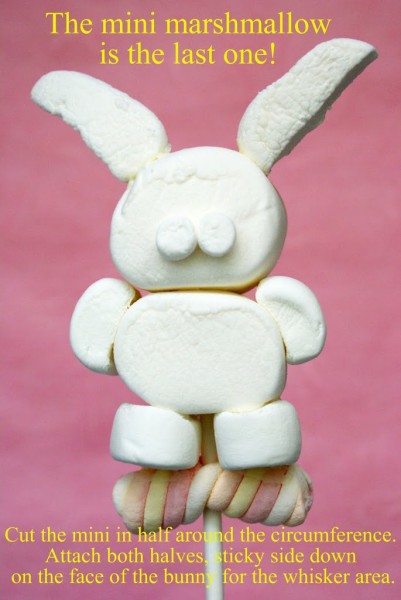 Now it time to decorate!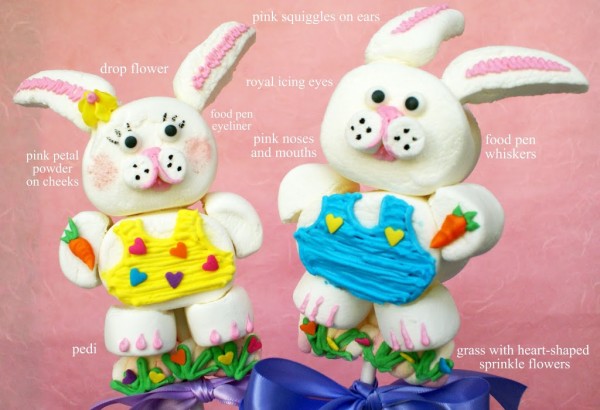 Mix up a quarter cup of yellow, pink, and green for the girl and blue, pink, and green for the boy or whatever colors you wish.
Green Grass ~
Using a #3 tip, make some green squiggles on the twist marshmallow for grass.
I added some heart-shaped sprinkles for flowers.
Yellow Dress (girl) ~
Using a #3 tip, outline a dress on the girl and fill in with lines of icing.
Adding some heart-shaped sprinkles is optional.
You could use round sprinkles like polka dots or nothing at all.
Pink Accent Areas ~
Using a #2 tip, build up the nose and add 2 sweeps across whiskers area.
Build up the mouth area. Add toes.
Pedicure dots for the girl and small lines for the boy.
You can also run a line of pink for the ears.
Blue Overalls (boy) ~
Using a #3 tip, outline overalls and fill in with lines of icing.
You could use a couple dragees or round sprinkles for buttons.
Add a bow tie if you have room.

17.
Using a black food pen, draw little dots on the whisker area.
Add eyes. Either drawn on or made from royal icing. I show both.
I gave my girl bunny eyelashes and a little flick of eyeliner.
So chic for spring time.
Glue additional royal icing decorations, carrots and flowers, if you have purchased them or if you have made your own ahead of time. I actually piped mine right on the bunnies so I also made some orange icing.
Let the icing dry before packaging.
Place in a cello bag and finish with a pretty ribbon!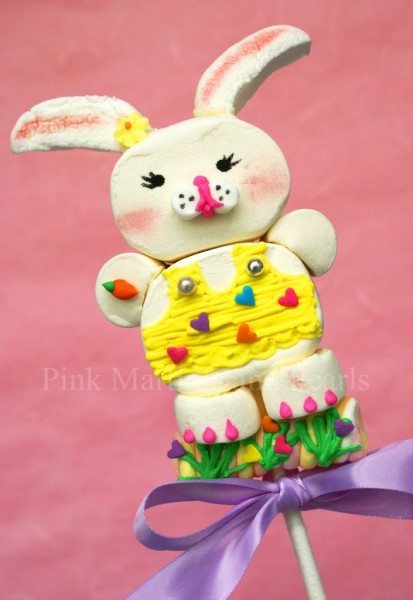 Idea source – Calico Cake Shop Extra-large and twisty marshmallows, candy writer, royal icing decorations (carrots, eyes and drop flower), lollipop sticks and cello bags can be purchased at Calico Cake Shop.
I'm also participating in Tip Junkie's Tip Me Tuesday.
Creativity is blooming today so go over and be inspired!