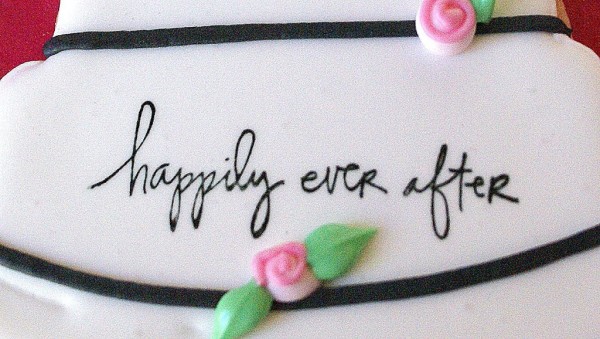 I promise soon I'll have a post that isn't cookie related but it's been my world for the last few weeks.A few weeks ago I was in Paper Source with a friend where I found this stamp and immediately fell in love with the saying and font. I had to have it!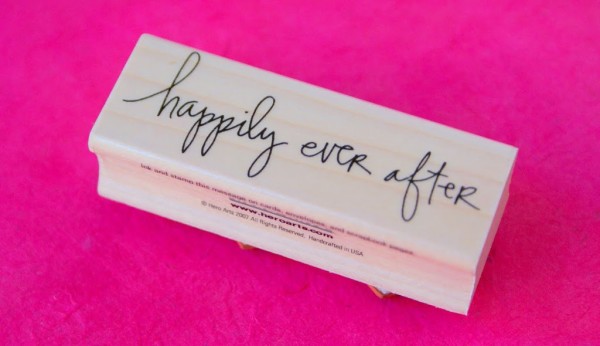 I knew it would be perfect for wedding cookies!
Why couldn't I stamp a cookie?
I've never seen a stamped cookie before but it became my quest to figure out a way to do it and how to get the best impression.
I tried a paper towel to hold the ink but it didn't work very well.
Stamping down into the paper towel put too much ink all over the stamp. Yuk.
Luckily, AmeriColor gel rinses right off and doesn't stain the stamp.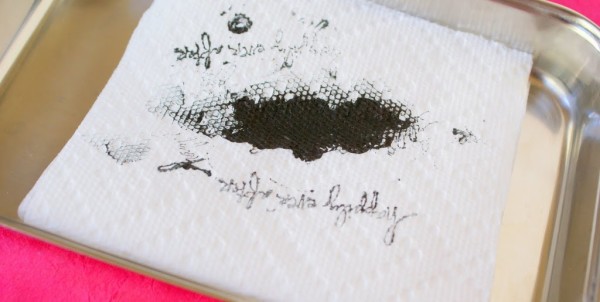 I then remembered a technique that I used when I was into stamping.
The trick is to take the ink source to the stamp and dab it on, so I had to perfect my ink delivery.
I made my own ink pad by taking a flat, firm, unused sponge that I cut the same size as the stamp and applied the food gel to it.
I then took my new ink pad in one hand put it over the top of the stamp and dabbed it.
Sorry I couldn't get a picture. I don't know how to use the timer on my camera – yet!
Anyway, it worked great!!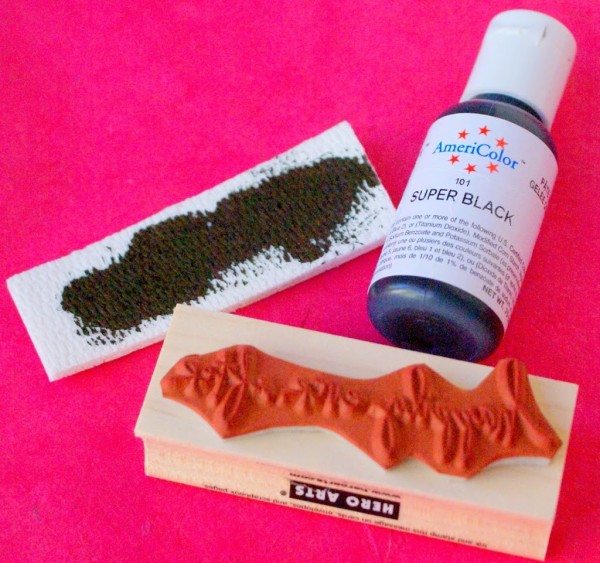 The dried icing on the cookie is pretty sturdy so I applied decent pressure rocking the stamp just a little to make sure it made contact with the cookie surface.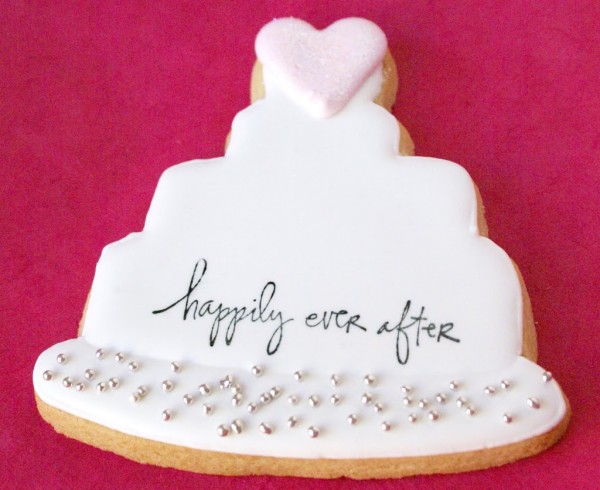 I realized it's best to stamp the cookie before doing any serious decorating in case I wasn't exactly pleased with the image. So do your base icing first, then stamp.
Here's the same cookie with a little more detail added.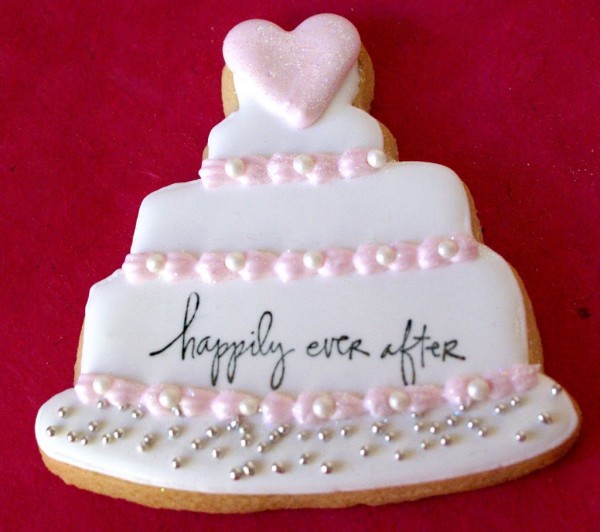 Don't look too closely at the design.
Not my style and kind of *yawn* boring I think but I was zipping through it to see if I liked a pink border. I didn't. I tried to fix it with white pearl dragees. Nope. Not doing it for me.
Here's a cookie with pink pearl dragees ~
And of course, rainbow Disco Dust sprinkled on the heart.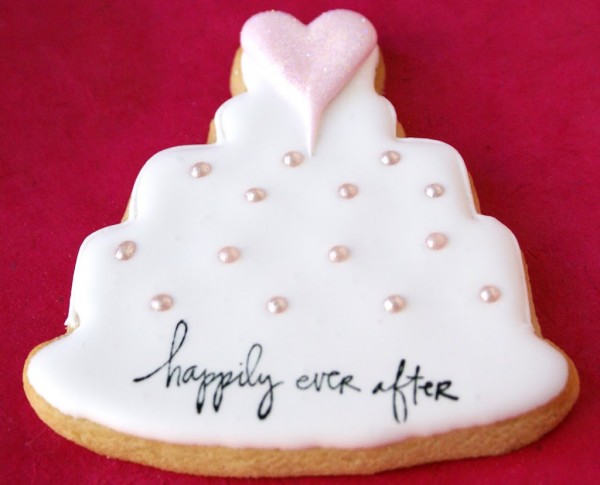 I liked the elegant simplicity of this design especially for a bride who doesn't want to go all florally. (Is that a word?)
The bride, whose wedding is in May, is having a cake with black bands of icing around the base. She's having pale pink flowers with light green
accents so I tried to incorporate all the elements into this prototype cookie.
Cookie with rounded bottom ~

I think something is need on the 'tray' layer but I don't know what quite yet.
Perhaps a pink color?
Cookie with flat bottom ~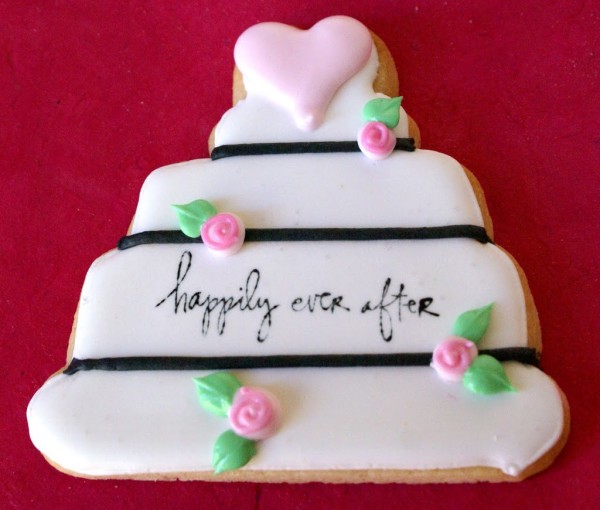 Which one(s) do you like?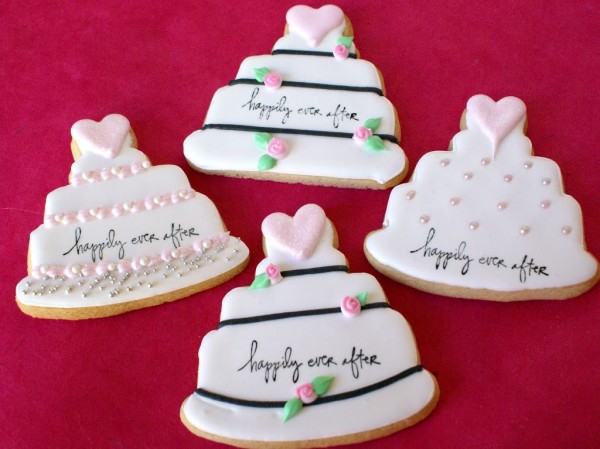 I'm sending them to the bride so she can mix and match design elements.
Since I'm just beginning the thought and design processes, I'm open to suggestions and ideas! 🙂