Not to outdo Santa but I wanted my own big bag this Christmas.
Black.
With zippers.
I knew if I had put it on my list by the time Santa's elves hit the mall it would have been gone. As it was Nordstrom put out an A.P.B. for me and found it at the mothership in Seattle ridiculously on sale. As a result I can guarantee the sales associate will be on Santa's 'good girls' list.
When I was sick from Thanksgiving weekend until this week I watched a lot of TV. Morning, noon and night. To say 'I vegged' would have been an understatement.
I saw an item on QVC I thought was a great idea.
It was for an interior organizer for your handbag.
I love big bags but I don't like the free for all in the bottom of them. I also tend to be lazy when it comes to changing bags with different outfits. I'm usually rushed going out the door and I don't want to mess around moving stuff feeling like I'd have to sort through it right then and there tossing out gum wrappers and tiny bits of paper. Ugh.
True confession time ~ I rarely leave the house without at least 5 lipsticks/glosses. Security blanket. Who knows why. More stuff.
So wouldn't it be a good idea for someone like me to reach in my bag and pull out a compact microfiber organizer with everything in tact even if this item is rather pedestrian compared to my big, beautiful Marc bag which is a fact I should be willing to overlook so I could find my keys and lipstick among loose tissues?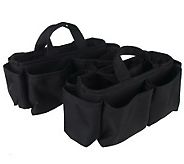 Lori Greiner Mircrofiber Bag Organizer
Clearly I'm truly, deeply, madly in love and want to nothing to come between me and Marc at this tender time in our relationship but I know the bloom on the rose will eventually fade when my phone rings and stops when I find it. I give it a week.