While 'researching' cocktails for Christmas I came across this recipe for an Eggnog Martini. Eggnog never looked so good as in a martini glass! It's a fun change from the typical eggnog and rum concoction placed in a mug or punch cup.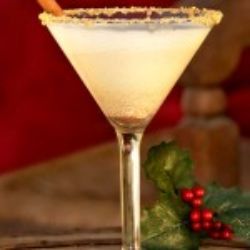 Eggnog Martini ~
2 cups store-bought eggnog
2 cups amaretto liqueur
2 cups vodka
gingersnap cookies
ground cinnamon
ground nutmeg
Combine the eggnog, amaretto and vodka in a pitcher and chill at least 30 minutes.
Crush gingersnaps in a food processor until they almost resemble a fine powder. Pour a tiny amount of amaretto into a small dish. Using your finger tip dipped in the amaretto run it around the rim of a chilled martini glass. Dip the wet rim of the glass into a dish where the crushed gingersnaps have been placed. Pour the alcohol mixture into prepared glasses and sprinkle with ground cinnamon and fresh grated nutmeg.
Cheers!