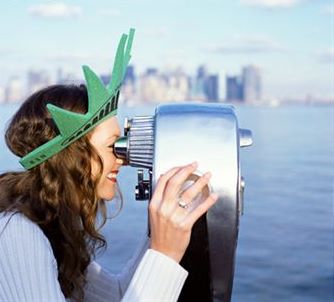 We're going to NYC for the first time for our 28th wedding anniversary next month and I'd love your input of where to go and what to see!!
Of course, we've got to see the S of L and we must pay homage to Mr. P.M's Norwegian grandparents who came through at Ellis Island.
A carriage ride in the park is on my romantic man's agenda but is that too embarrassingly bourgeois especially with my foam crown?
Other than these things I am hopelessly lost and typically tourist.
What will make our trip truly memorable?
Californians have a bad enough rap without us standing on a corner with a map in hand and our camera dangling off the Hawaiian shirt.
Reminder: Take Hawaiian shirt to cleaners.