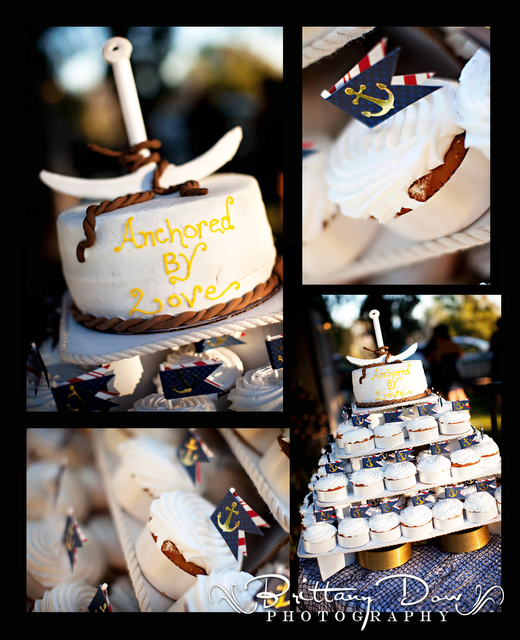 Another decorative task I was thrilled to be asked to be involved with was to bring in the nautical theme to the cake table. My niece being the resourceful person she is ordered cupcakes from Costco and to be very honest (and my niece knows this so no big revelation after the fact) the thought of cupcakes from Costco for her wedding didn't exactly float my boat since I am a baking snob but I do own up to it. I thought they had no soul so it became my quest to give them them one.She found the cardboard tower online she wanted to use and I immediately had some ideas ~Spray paint it white enamel after a primer coat ~ the finish was glossy and perfect.
Add a thick cotton nautical decorative rope around the edges and hot glue it in place.
No. I did not make the top cake but there almost wasn't one as the person making it forgot to do it and had to deliver it the next day. Luckily the wedding wasn't until sunset. Whew! And as it turned out the Costco cupcakes were delicious and people raved about them. Who knew? 😉
Next came the flag toppers and cupcake bands ~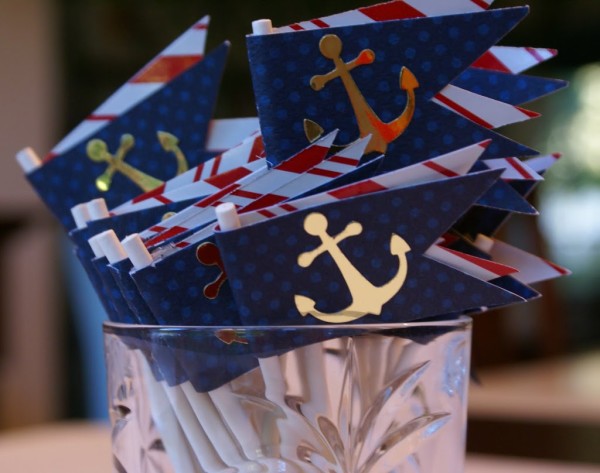 I played around with various color combos and decided to keep it a white color palette for the most part with a hint of navy, red and gold as accent colors. The flags would be the perfect vehicle to tie it all in together.
Now I just had to make them.
I used navy scrapbook paper but I wanted to offset the flag tips just enough to show a color on the underside. Unfortunately, the navy paper didn't come with a patterned red backing so I had to make the navy paper into a double faced sheet.
I found some wrapping paper I liked and attached it to the navy sheet with spray adhesive (Super 77).
"Yikes! Stripes!"
Don't these look like long strips of Fruit Stripe Gum?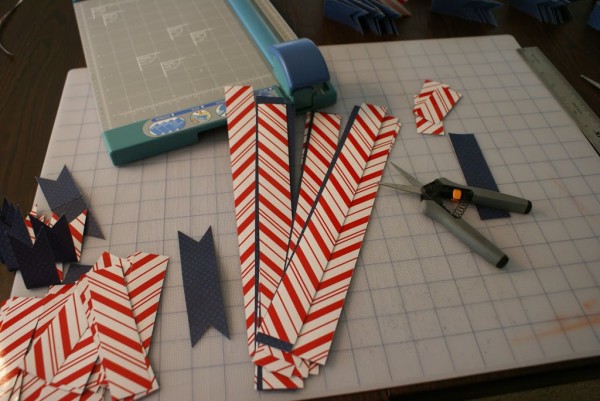 Now came the really fun part ~ using my new Martha Stewart anchor punch
(found at Michaels and Paper Source)
and Xyron sticker maker
(found at Paper Source and Amazon)
.
No compensation. Just sincere enthusiasm.
I used gold metallic poster paper to make the anchors.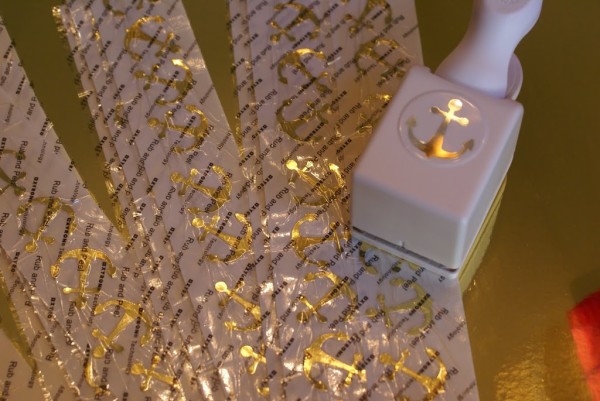 After punching out the anchors I fed them into my nifty new Xyron gadget/toy and pulled on the tape below. What does this do? It sandwiches the anchor punch outs between an adhesive strip and a cello top so I can make my very own stickers!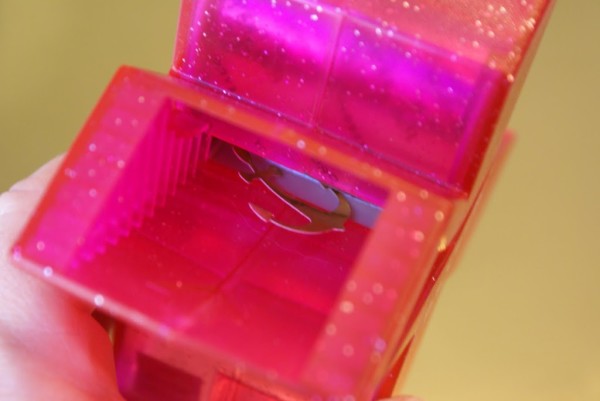 I can't tell you how much I love, love, love this gadget and this was the first time I had ever used one. The Xyron comes in different widths (mine is 1.5″) and has inexpensive adhesive refills.
My nifty machine cost $10.00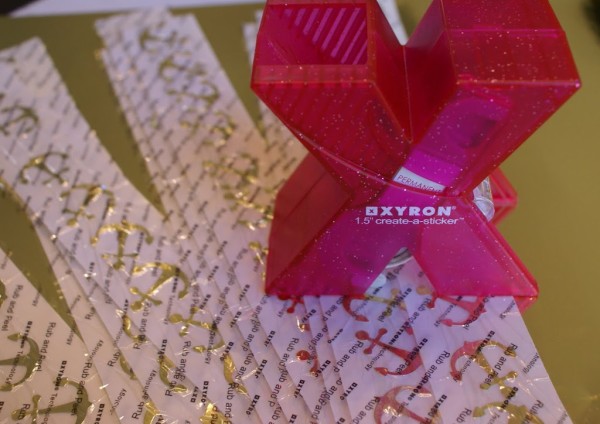 I felt like I was Mrs. Grossman!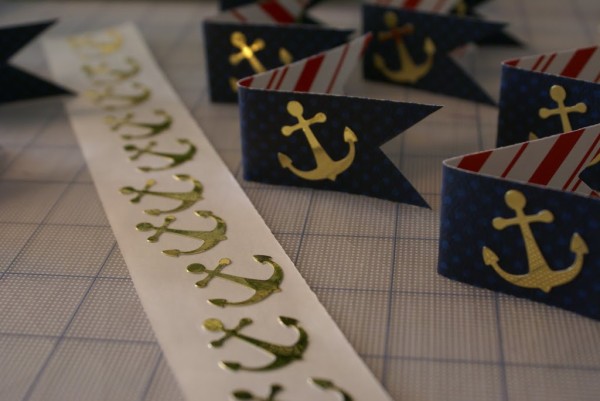 To finish the flags ~ I ran a strip of adhesive and double stick tape across the inside of the flag and secured a lollipop stick in the middle.
Oh. I also made bands to go around the cupcakes out of pearlized poster paper. We had to cut them out individually with an Xacto knife which took a long time. Son2 measured around our prototype Costco muffin substituting for the cupcake and taped each band into a circle the night before and popped it off to await placing them on the cupcakes the day of the wedding.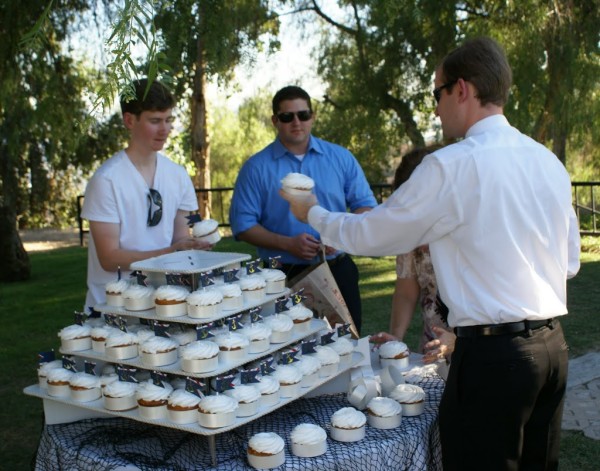 "It Takes A Crew"

Sons 1 &2, SIL Sally, me and nephew Todd were scrambling.
This took us an hour to band the cupcakes and stick in the flags and we were hustling!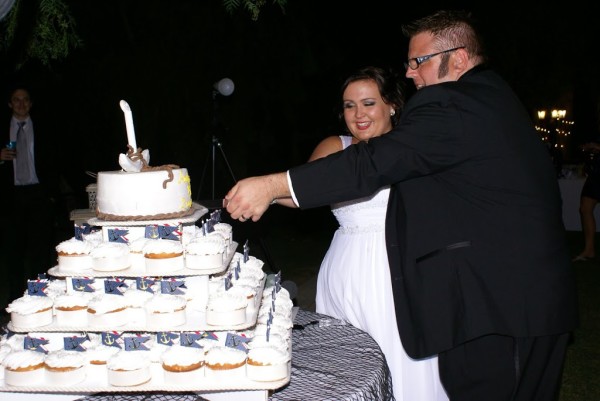 In the final
"Nautical Wedding Part Tres"
post I'll have more family pictures of the day.
I'm waiting for better pictures to surface than the ones I took.
Stay tuned… 🙂 xoxo