4th of July Recap ~We had 20 guests and it was a great day.
Tiaras for the ladies and balsa wood airplanes for the guys to play with. Croquet, home made ice cream ~ chocolate, Cherry Garcia, strawberry and black raspberry. The yard was filled with dozens of candles, torches and lanterns hanging in the trees.
But where are the pictures???
I was so busy flitting around I didn't think to take any!
It is my huge regret that I didn't capture my family enjoying the day.
I can tell you, I won't ever let that happen again.
I did manage to get a few while I was setting up ~
…and only one when we began to eat.
Ladies first, gentlemen.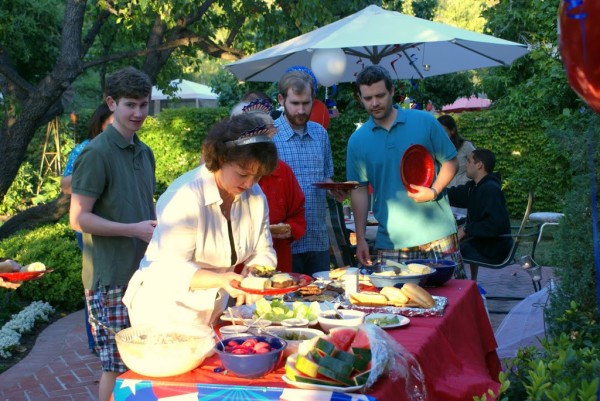 My niece sent me this one of Grandma Jeana and her grand-daughters, uh, and a party crasher/masher in the background. Batman, you're a nut!!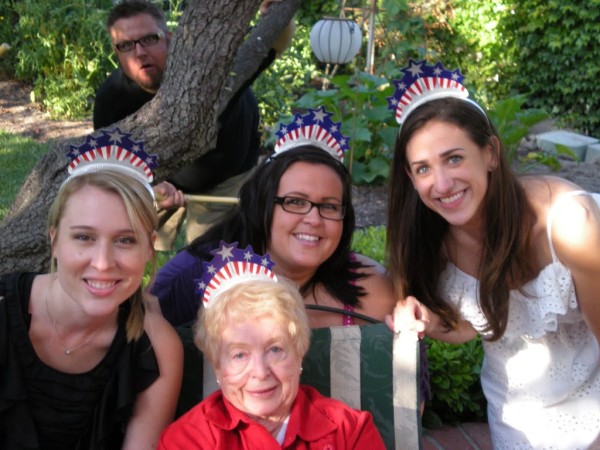 Jennifer and Mizz, (sisters on the left) are both getting married. Mizz in Sept., and Jennifer, next spring. I heard bits and pieces of the plans and both extravaganzas sound wonderful. Laura (niece on the right) has a new job that has her traveling all over the country. Ah, to be young and carefree! 🙂
Grandma Jeana with her youngest ham, and mine.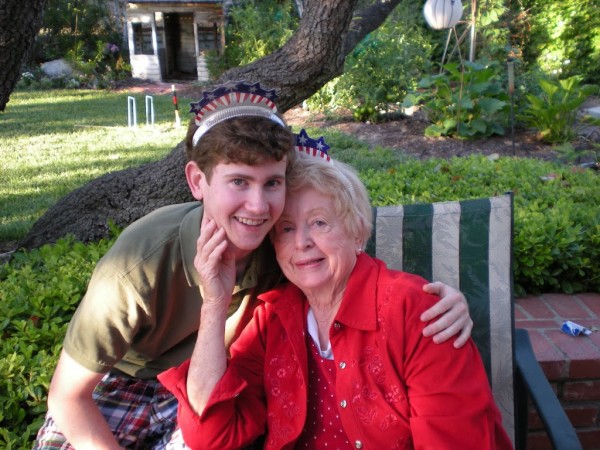 Since we are not allowed fireworks in our part of the OC, we had to create our own entertainment at night. We had "The Great American Shave-Off". Son1 had been growing a beard since he graduated from college, one month exactly and at my urging, so his cousin came prepared with her professional clippers. Apparently my family is easily entertained as 20 people packed the kitchen calling out certain styles they wanted to see in stages. It was a lot of fun and we couldn't stop laughing. Son1 was a very good sport. Actually, I think I dated this face in the 70's. Oh yeah, his father! Eventually it all came off.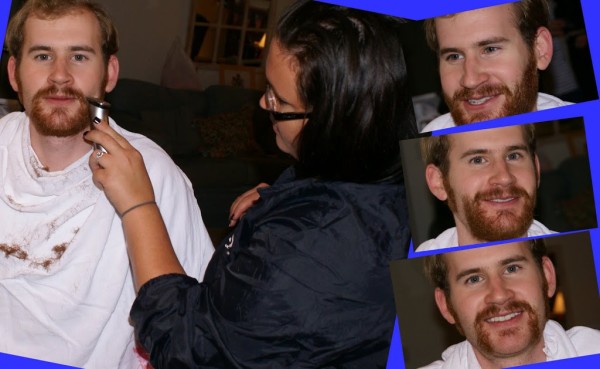 The evening ended very late and everyone left with their decorated cookies (see previous post) and the personalized note cards I made for the ladies. The guys left with full tummies and successful aviation flights, so all were happy.
So, until next year where I'll be sure to take more pictures, I hope you all had a wonderful and memorable day too! 🙂