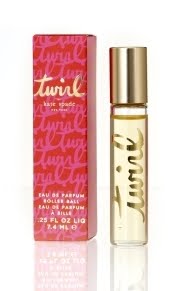 "Kate, you had me at
'Twirl'
."
I'm thoroughly captivated by this description ~
"Twirl opens with pink watermelon, blackberry and red currant; enhanced with a hint of fresh flowers including orange blossom, star jasmine, tiare flower and sweet magnolia, and finishes with luminous musk and a touch of French macaroon (straight from the patisserie, of course)."
Ah, how scrumptious does this sound?
'Twirl' is the new Kate Spade fragrance and is available by pre-order for delivery
July 10.
Free ground shipping. $18 eau de parfum rollerball.
I cannot wait until it arrives!
A reminder ~
My give-away ~
"The Gospel According To Coco Chanel"
and
Coco Mademoiselle Fresh Body Satin Spray
ends on Wednesday, June 30th at midnight.
Enter here!
Also, I received the Keratin hair treatment on Friday and later this afternoon I can finally wash it!! Like the Japanese straightening, I have to wait 72 hours. Ugh. I have not been out of my house all weekend. Pros and cons to this procedure. I'm anxious to see how it compares to the Brazilian Blowout that I wrote about here. I could tell immediately the Keratin treatment did not make my hair as sleek as the B.Blowout although it does take away any frizziness. When I came out of the salon, I preferred the texture over the B.Blowout, at least for my hair which is fine.
We shall see what the afternoon brings! I'll let you know! 🙂