'tis the season to wrap up spring team sports and to remember the good times with a party that always includes a sheet cake!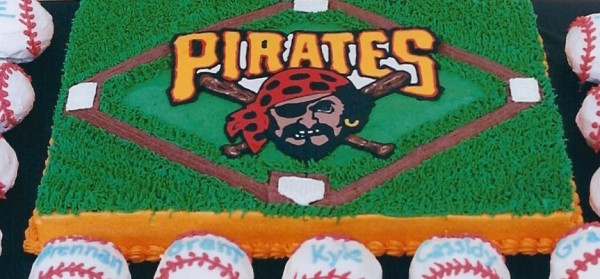 I'm going to let you in on a little secret to making a BIG "wow factor" that you can do and you don't even need to bake the cake!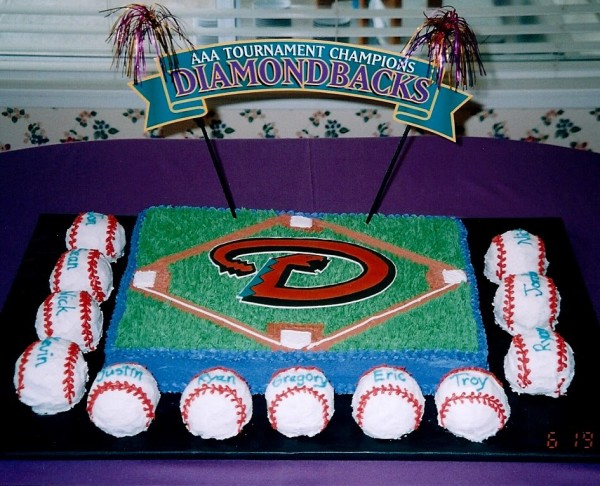 2 words ~
Color. Flow.
What is 'color flow'?
Basically, it's thinned out royal icing and you can find the recipe and technique here.
For the logo designs on the baseball sheets cakes, I went to the MLB teams' website and downloaded their logo and printed it out, enlarging it to fit a sheet cake.
I also made the individual players' baseballs with a Wilton half ball round pan and put two of the halves together and personalized them.
This was a home run!
What child doesn't love seeing their name and eating it?

To color flow the logo:
1. Take your printed logo and tape it to a cookie sheet.
You want it flat and stable.2. Place a sheet of waxed paper large enough to cover the logo copy and tape it to the cookie sheet.3. Take regular royal icing (not thinned) and make all your outlines in the appropriate colors.
4. When the outlines have set, in-fill with thinned royal icing in corresponding colors.
5. Let this set for a few days until absolutely, completely dry.
I like to make a few stars traced with a cookie cutter to be my testers. When they are dry so will be the logo, besides it's always good to have a few stars stored away for cupcakes.
They are virtually non-perishable.
The finished logo will be fragile and very light weight so here's how you take it off the waxed paper~
6. Remove the tape from the corners so your logo is free. You can also tear the corners off the paper. I prefer this way so I don't have to worry about sticky tape hanging off.
7. Carefully flip the logo onto a few paper towels that have been laid out and peel the backing of the waxed paper off.
8. Never try to do it the opposite way of peeling the icing from the waxed paper. This will break your design. If the design is thoroughly dry the waxed paper will come off easily.
Tips:
The grease in the cake icing will darken the royal icing so either put on the design on the cake a day ahead so this can happen evenly or a couple hours ahead of your event so this will not happen. Either way works.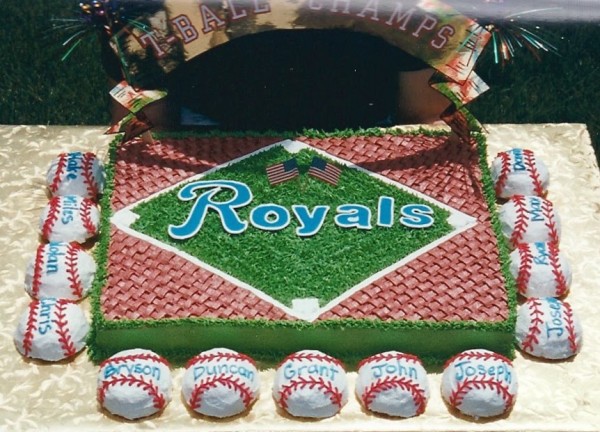 By the time my boys were in high school I got smart and I would use a store bought cake and just made the royal icing design. This saved so much time!
For the Beatles cake, which was the music for the marching band one year, I downloaded the a tiny album cover image I found on line.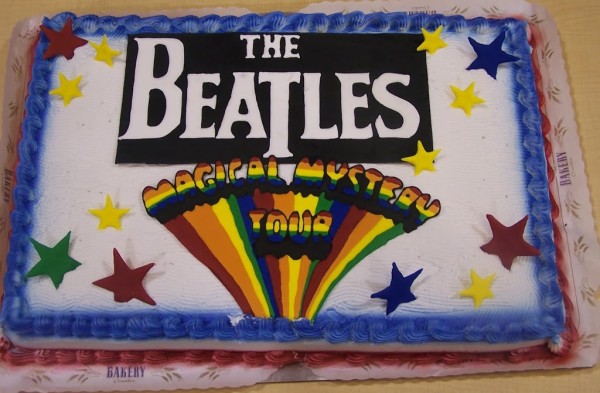 I asked my grocery store to make this cake with a white background with blue and red (school's colors) for the borders. Yep, I used the tester stars here. They can add so much and I made extras to put on each band member's own piece of cake.
My motto for 7 years was ~"No band member left behind"! 🙂
I needed another cake and didn't want to do the same design twice so I had the store make one with a green background. I made the hash lines ~ which reminds me of a band joke…
"What are all these players doing on the marching field?"
hahaha – well, we band moms sitting in the stands loved it. 😉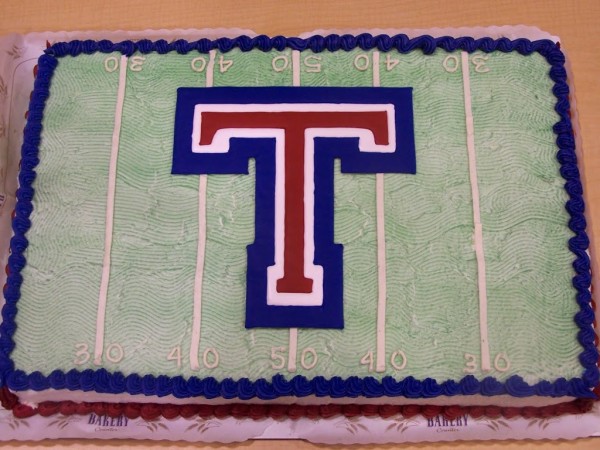 Now go make those store bought cakes your own!!!