I am cordially invited to attend my sorority's fund raiser for the Tri-Delta house at USC.
What a great idea!
With school over and before the house closes for the summer, House Corps decided to invite alumni back for a sleep over.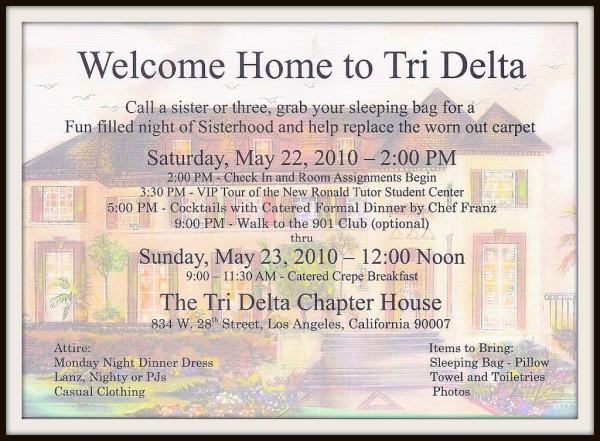 If I were to go, my room assignment would be ~
"West Wing with Lady Kate".
Maybe the Figis will return and let a greased pig run loose during our dinner and perhaps when we are all snug in our sleeping bags they will thunder down the hall half-dressed like wild natives from a country that thankfully does not exist and scare the bejeebers out of us under the impression this is how to woo a girl to accompany them to one of their parties. They had such a way with grunts back then. I don't think I could make it to the door to barricade it again in the record time like we did before. How about you, Kate?
I say, now, if they want us that badly, "come n' get it, baby" or you can get the door.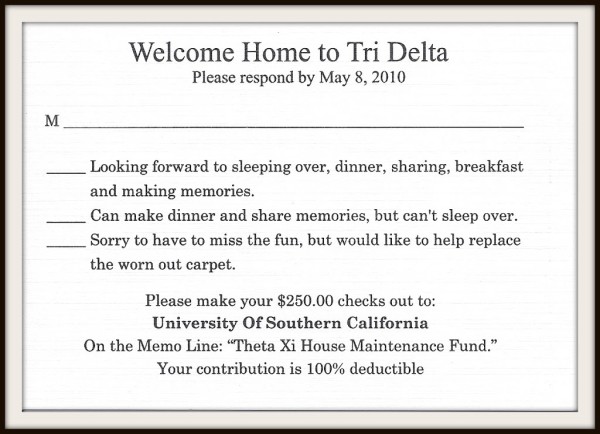 Hopefully, the Phi Tau's will raid our panties for old times sake. I guess now this would be considered sexual harassment and as VP in 1979, I couldn't let it go then either. I marched into the den of iniquity and demanded our house's unmentionables to be returned. Unfortunately, they were good hunters and gathers and hit more than one house that night so we had to root around through a fairly large box to find what was rightfully ours. As a reminder of the scavenger hunt the bras and panties were ink stamped all over with "Phi Tau". I thought that was very clever and very funny but I couldn't let the Phi Tau's know that.
Note to self ~ bring along extra granny panties just in case the night gets wild.
We're supposed to bring our Lanz nightgown.
Flannel.
High neck.
Down to the ground.
Wrapped to the wrists.
Fits two comfortably and a tub full of Tommy's burgers with room left over.
Yep. I wore them with a figure as close to perfect as it was ever going to get.
What the hell was I thinking?
Drinks at the 901? Really? The 9-0?
The watering hole on Figueroa that I would never dare to be seen in while I was in college because it was a dive that was packed on Thursday nights with drunken frat boys? Oh shoot! Our sleep over is for a Saturday night.
Maybe we can reschedule.
Hopefully we'll hit it on cougar night. Grrrrr.
They say you can never go back, but it might be fun to give it the ol' college try. 🙂
Lady Kate ~ I actually think it's great idea all the way around – for the house to benefit and for us to have a terrific trip down memory lane. Let's go! I'll drive. Even the 9-0 has been upgraded from the 901 Club to the 901 Bar & Grill! Posh.