I was having a good hair and face day yesterday so I went to the mall and of course saw no one I knew. Figures. I raided the M.A.C counter and ventured for something new for me.
My new loves ~
'Pro Longwear' Lip stain Marker in Runway Ripened (pictured).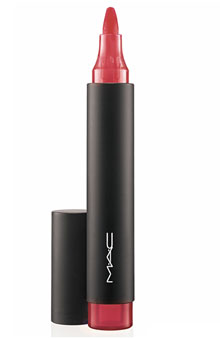 Think felt tipped marker for your lips.
I was surprised how much I liked this. Did not feather and gave a pretty color even as it wore off. I paired it with Lustreglass gloss in Flashmode (deep but sheer pink) and Dazzleglass gloss in Extra Amps (a bright glittery pink that does not look glittery on only very shiny). I bought all three! The Extra Amps is so gorgeous I think I could just be happy looking at it in the tube all day. Does this mean I have a slight fixation for pink sparkly things? You betcha!
Oh ~ yesterday's post on FipFuision's XL – thanks to SkinWest's Mizz for letting me know it is on sale on their site from $50 to $37.50! Stock up!! It never goes on sale in the store.
skinwest.com
Now I'll be ready to join the swinging jet set this weekend in Palm Springs.

Have a swanky weekend, friends!