"Somebunny" thinks you're terrific for making their 1 year blogging anniversary so wonderful and it's

ME!!
I have appreciated your company, your blogs, your comments and your friendships more than you will ever know and I'd like to give you something a little unique from me so what better than a

Decorated Cookies Give-Away
specially for you!
I wish I could give everyone a 21 "Bun" Salute to say thank you but I hope you feel just as special with a 4 "Buns" Salute!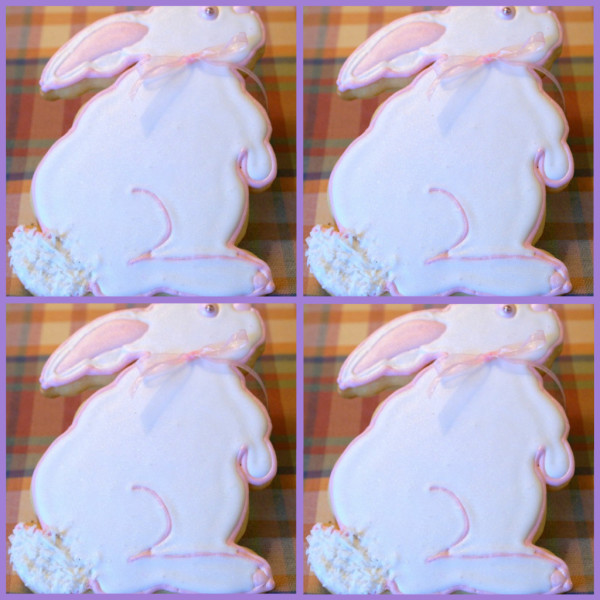 Hopping ahead to spring – the lucky bunny recipient will receive 4 big bunny (5″x7″) cookies dressed in their springtime finest in a cello bag with green grass and a pretty plaid bow! They would be cute gifts for anyone or placed in an Easter basket or added to your table scape.
Each bunny casts a pink dragee eye your way, shimmers with pearlized luster dust and has a coconut cotton tail!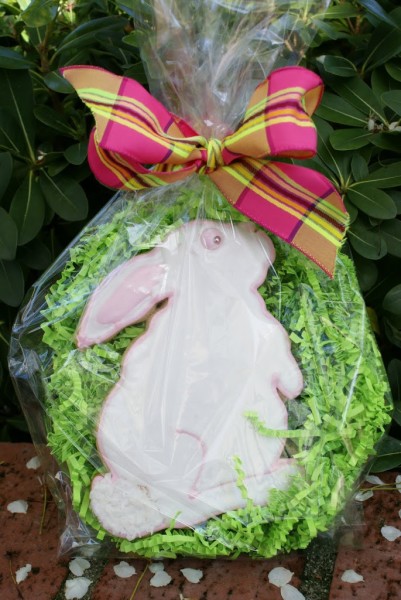 I can make them more feminine (eyelashes, etc) or masculine (without the bow) or just your basic garden variety (as shown below) with a personalization on the cookie or covered in icing lace but we'll talk about that after someone has been chosen.
I'm including 4 personalized tags too! 🙂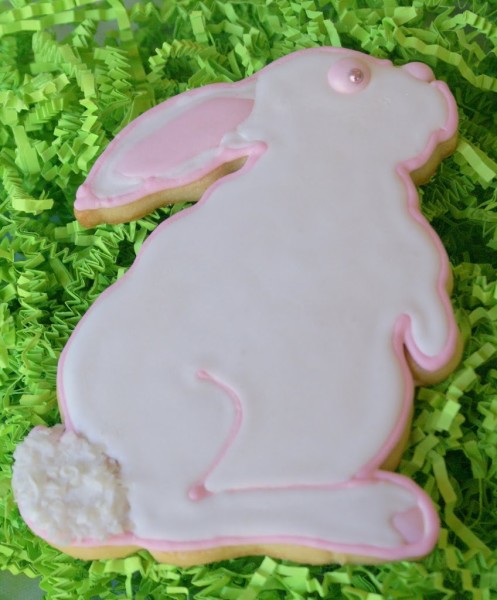 Delivery will be by postal service the week prior to Easter.
I always bake in a happy mood so you'll feel the love on your first bite.
It's my personal Like Water For Chocolate moment. 🙂
I prefer all entries to be sidebar followers so I can have a visual while I bake for you even if it's as small as an avatar or name. I know it may seem a little kooky but that's my creative process. It connects me to you. Thanks.
Leave a comment and let me know if….
New sidebar follower? ~ Welcome! 1 Entry
Sidebar follower prior to this post? ~ Love you! 2 Entries
If you're kind enough to post about the give-away on your blog ~ 1 Extra Entry
(I am thinking about an online cookie business if people are interested so any 'good word' would be appreciated.)
If you Tweet about this ~ 1 Extra Entry
Let me know your total entries!
Give-Away ends midnight Pacific time on February 28th.
Thank you again, dear blogging friends, for your support, encouragement and for sharing the laughter and tears over this past year. I can't believe how sweet it has been because of you!
xoxo
Thank you to all who entered.
The give-away is now closed.
"How Sweet It Is" ~ Marvin Gaye