I have a soft spot for the beachy babes of the Dana Hills High School Girls Varsity Soccer Team and although I've never been to one of their games, every year at the end of the season I am connected to them.
Four years ago, I began making decorated cookies for the team and it has turned into a tradition for them and me. The mom who has ordered them every year told me some girls chose not to eat them as they have become 'collector's items' of sorts, or so I'm told.
The first year I made a big soccer ball for each girl. The second year I made their school's logo. Last year,
I made these
. I had finally decided I should take some pictures.
I needed a different design this year. I thought fortune cookies that I could personalize with soccer sayings would be fun for them and a change for me.
The only trouble is, I only know two soccer words – David and Beckham.
Enter
Odum: Party of Five
to the rescue! I read on her blog that her daughter plays soccer. I wrote to her and asked her if she could help me with ideas for soccer-esque sayings.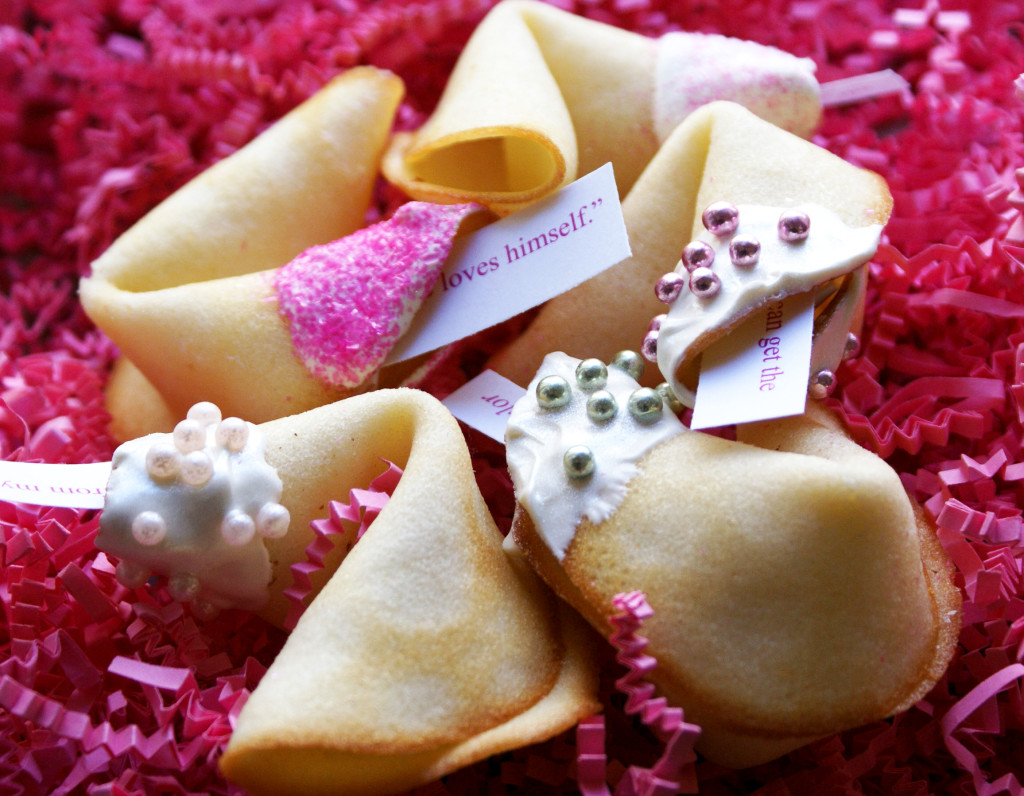 She was wonderful and such a help. Go visit her blog. She is such a sweetheart! A HUGE thank you! I think the team would have gotten quite bored if they kept opening cookies that read 'David Beckham.'
The
recipe
I used was Martha's and it was easy to work with and absolutely delish! Full of almond flavor. I had to use restraint not to dive into the batter alone. It's that good. I used Silpat mats and could only make 2 cookies at a time because they hardened very quickly so making over 105 cookies plus the ones that came out a little too crispy at first took a long time but I staggered the baking sheets (I used 3) so the continuous production line was the way to go. Since the cookie sheets did not cool off adequately (the cookies only took 6 minutes to bake), I took the Silpat mat off the cookie sheet to apply the batter then slid it back onto the pan when it was time for it to go into the oven. You'll find your rhythm with timing.
Even top-notch athletes need some bling! I brushed white chocolate on some of the cookies and sprinkled my big contraband silver dragees over them. I used red, white and blue jimmies and blue nonpareils on two others.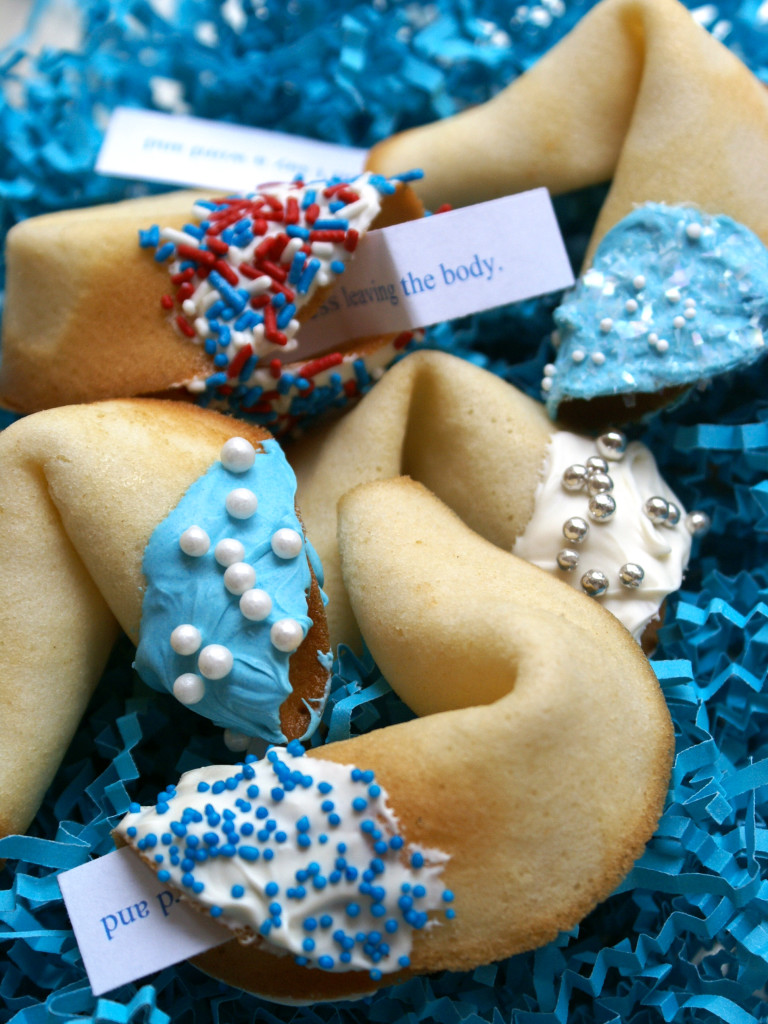 I then tinted the white chocolate with blue gel color, brushed it on the two remaining cookies and sprinkled one with white pearl dragees and the other, with white nonpareils and opalescence glitter.
I bought Chinese food containers at Party City for .99/each. They are not as substantial as restaurant quality but since they weren't holding Kung Pao Chicken, it was okay. I liked the rope handle as it had a nautical feeling to it which is what Dana Hills is all about.
In goes the sizzle pack in the school's colors and 5 of the over-sized cookies!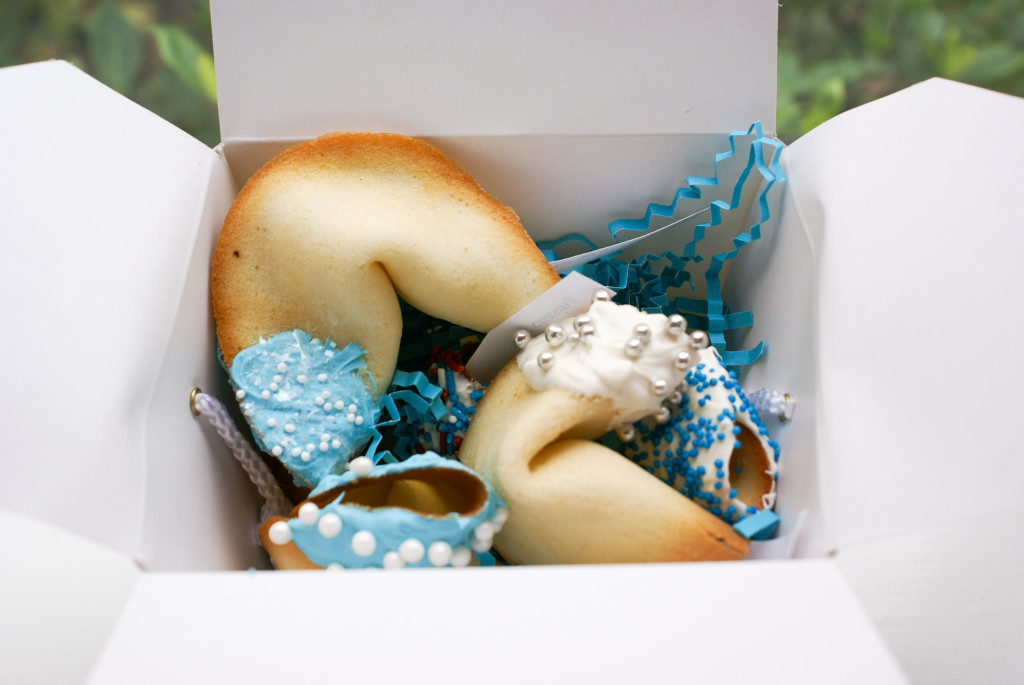 21 boxes all ready to be shipped out with grosgrain ribbon and a nautical topper ribbon.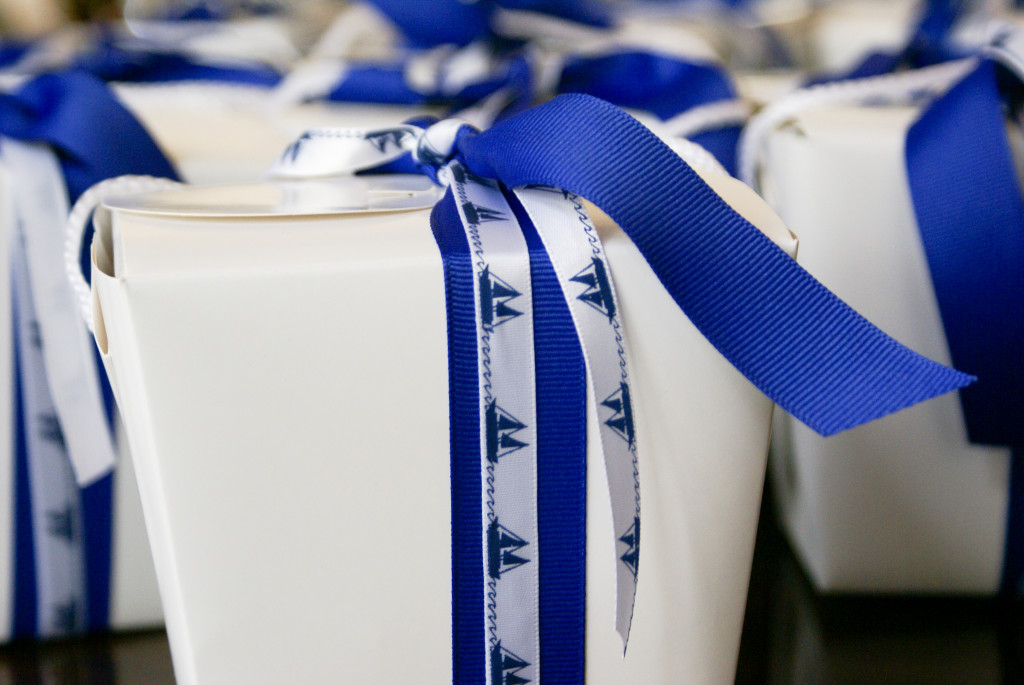 Congratulations, ladies, on a winning season and the very best to the seniors as they go onto greener fields! 🙂