I found an interesting blog called
Garnish
. It's has great ideas of how to put together packaging for special presentations. For example, the Soup Swap.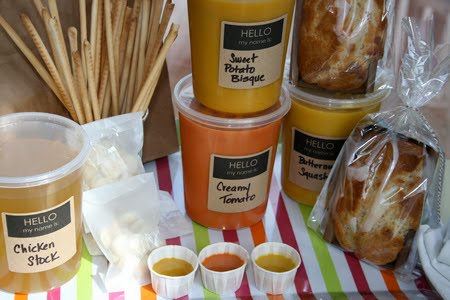 How do you host a soup swap and what supplies will you need?
Garnish
will tell you how to do it and if you need supplies, they are available for purchase too. Very ingenious. I love the Soup Swap idea.
I have always liked the containers Ina Garten uses or it could be I just like her kitchen or her clean frig that only has the current episode's food items in it or her gay husband, TR! I think I want them all!
Here are Ina's containers from Cassandra's Kitchen with the little band of vertical stripes around it. Ina also links to this site on her website so they are exactly what she uses. My local Thai restaurant ('Rice and Spice', for my RSM readers in the Antonio Pavilion center) use these and they are much stronger than the usual containers you'd get at the deli. I had a hard time getting the lid off. Great for soup. I found them online along time ago from the manufacturer but I'm sure you'd probably have to buy them in bulk which means more Thai food for me!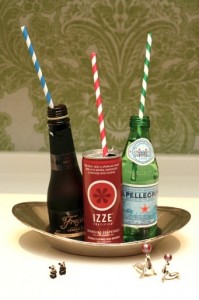 And when was the last time you saw paper straws? Remember how you'd have to tear off the end? How cute would these be for a 'tween girls slumber party/movie night with old-fashioned coke bottles and tubs of popcorn or for a birthday party? The photo op would be darling!
These are also from Garnish.
I'm looking for any reason to plan a party!
Plan on a terrific weekend. See you Monday!