I love desk calendars and organizers and I believe a choice of one can be very insightful to where we are in our lives. My first one was the
Sierra Club Engagement Calendar
week-at-a-glance. ($13.95)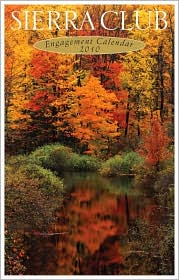 I was young and green.
Every week was an inspiring, beautiful picture.
There were some off years that weren't note worthy.
I was in the ad business and proving myself.
A Day Timer here, a Filofax there.
Very professional. Very official. Very boring.
Soon thereafter I found
The Far Side
by Gary Larson.
I had babies. New pets. A new house.
And all the craziness that came along with it.
I needed a good laugh.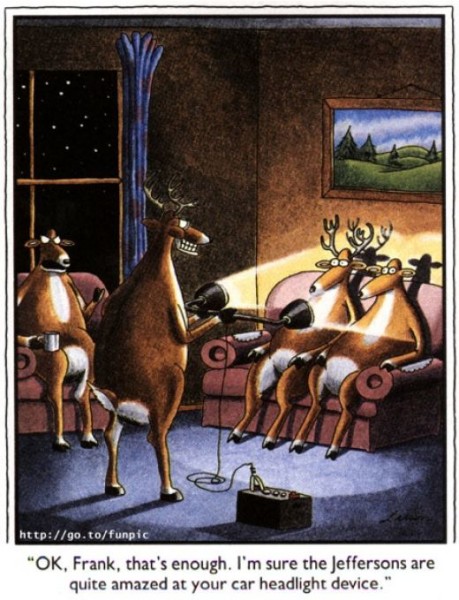 For years, talking animals with warped senses of humor and rocket scientists running from the lab when they heard the ice cream truck's jingle made me giggle every week. It was a given on Christmas day when I opened this present 'from the boys' I would sit and read all 52 comics and laugh out loud for 20 minutes. It became a coffee table book for a day with everyone taking their turn between the dinner and pecan pie. It was my holiday ritual and I miss it since Gary retired. His humor appealed to my inner nerd.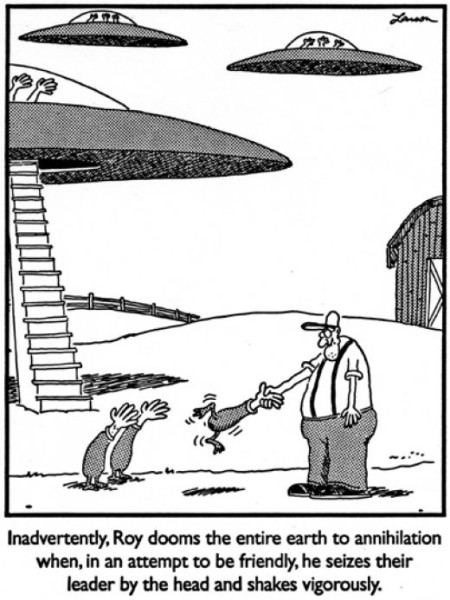 Recently, while going through a box on a top shelf, I found I had kept a stack of them. They were practically diaries chronicling everything from pre-natal visits to middle school concerts and Little League games. Gary and I had a long term relationship over the best years of my life. I'm keeping him around.
A couple years ago I was at the apex of "high parenting" and I fell in love with the
Truly Mom organizer
($150) and thought I needed it to keep me on top of things while serving a second term as President of the high school's music boosters. It is a bright Barbie pink patent leather beauty that serves as a portable desk.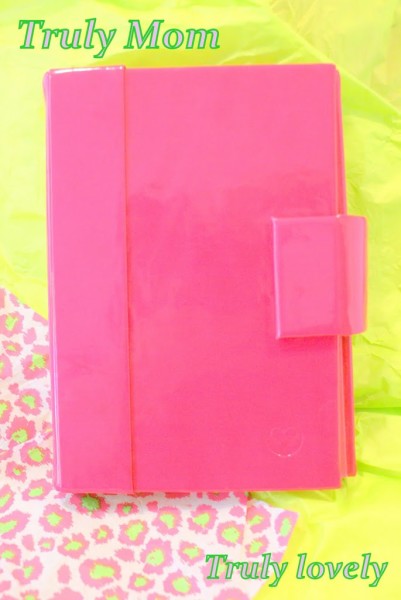 Its tri-fold covers practically makes it as big as a thousand page novel and if you unfold it at a meeting you better be sitting at a long conference table. It is territorial. One side holds variations of 3 pads: post-it notes, a long list pad, and a tally pad, as I call it.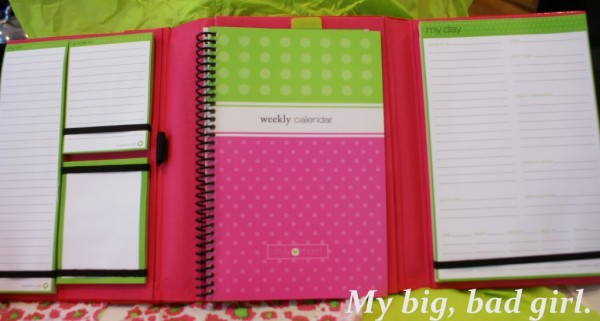 The other side holds sheets reminding you of who to drop off, what's for dinner, calls to make, emails to send, gifts to purchase, and which kid is going where at what time. On the inside middle is the calendar with stickers and there is also a pocket with an address book when you flip the back cover closed. Included is a cute heart-shaped paper clip and pen.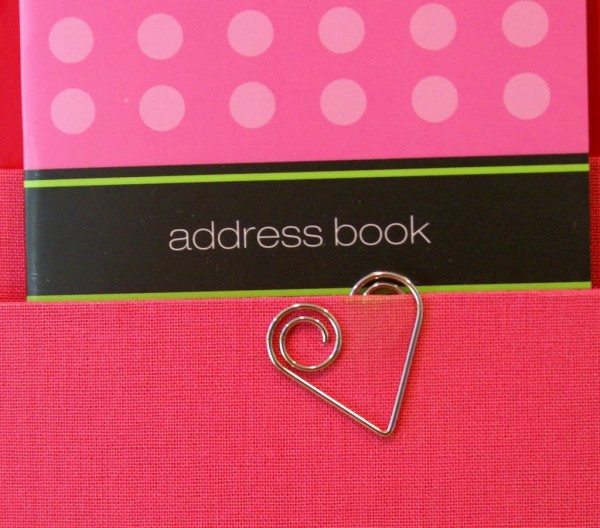 I thought I would need a large organizer knowing I could have used something like this during my first term since our group was very active and fast paced but I also had a freshman and senior in high school back then. At my repeat performance one chick had already flown the coop staring in his own real life Far Side adventure studying to be one of those rocket scientists and I found out I didn't need the desk on wheels after all. By the second go around of anything you know what to expect, what to do and you are organizationally prepared. But it is gorgeous ~ all pink and green inside and out! They now make a smaller version called Truly Tiny but not in patent and not a tri-fold. However, my big, bad girl is an organizer's dream and if I had the busy lifestyle of younger children again we'd rekindled our relationship in an instant. Knowing I was soon heading into high parenting retirement, for 2009's calendar I decided to make Kate my new BFF over Barbie.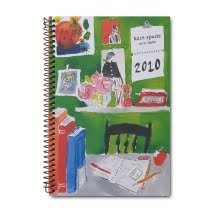 Here is the one for 2010.
It's a more workable size and can fit into your bag. I loved the tight flexible plastic spiral binding. It worked perfectly for the thickness of the cover and pages.
It is a gem.
Kate still had too much to offer me as I gradually headed towards empty nestdom. I loved the graphics, the size and feel but I didn't need the focus on an hour by hour accounting of my time in addition to the monthly pages. And a draw back for me about Kate's planner is that I had to hunt to find the current week which is a cumbersome task come the summer and fall. All the pages were flush with one another. I could have dog eared as I went along, but I don't partake in that nasty little habit.
Then, there's something about Mary Lilly.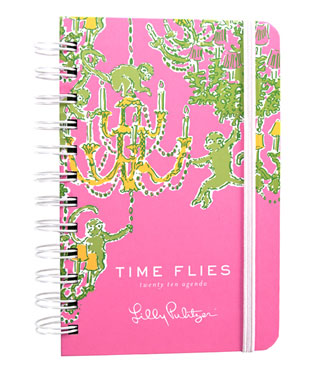 Seeing all the pretty Lilly paper products online I decided to order the
Lilly Large Agenda
($24.50) with the monkeys hanging from the chandeliers. I hate monkeys. Hate them. They rank up there with clowns and spiders but I find myself vehemently attracted to this pattern and find them really cute like little cocktail monkeys. I am suddenly carefree enough to be hanging off the chandeliers too? Hopefully in 2010 I will be. The cover shot does not do justice to all the treasures it holds. Once you turn the hard cover you are greeted with an explosion of color and whimsy! And colored tabs!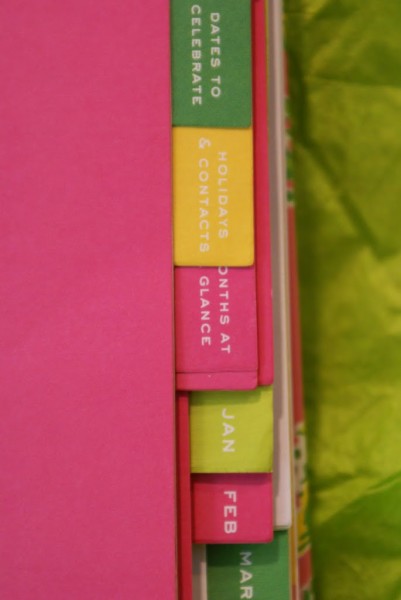 No more hunting for the current month or week with tabs in place! I'll have no time to hunt. I'll be swinging from the chandeliers. I need quick access to my soiree dates. Die cut monthly header pages! Stickers of monkeys holding martini glasses! What is there not to love and adore? I cannot wait to start penciling in dates. Nerdy? Perhaps. But with such organizational perfectionism in pink and green it's easy to get carried away. *sigh*
I also have to give kudos to
The Preppy Princess
from whence it came. My items arrived gift wrapped in pink and green tissue tied in pink and green raffia.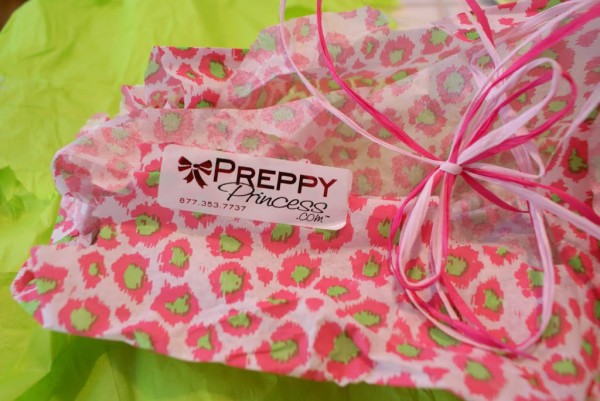 It was like having my own personal party at 2 AM when I opened the box. It was such a nice surprise and only added to my excitement. I found this personal touch to be very nice so I called them up the next day to tell them. I spoke with Kevin who was one of the nicest customer service persons to answer a phone that I have encountered in a very long time. The RL store at SCP would be lucky to have him even for a day. You can tell they really put their hearts into their service and presentation. He told me if they know the order is a gift they will wrap it in Lilly paper! Just let them know. Can you say "Christmas Presents?" After all, pink is a variation of red and Lilly green is just a lighter shade of evergreen. I say, "It's a wrap!"
What do you use to keep organized?
"Calendar Girl" ~ Neil Sedaka