USC vs.

UCLA
This goes way back.

Long before I was an espadrille wearin', Bermuda bag totin', ever lovin' Tri-Delta Row Goddess, UCLA would make the trek from the west side over to south central and douse Tommy with a couple cans of blue paint and swipe his sword. For a couple weeks before the game in the Coliseum, a guard hovered 24/7 over our bronze campus god.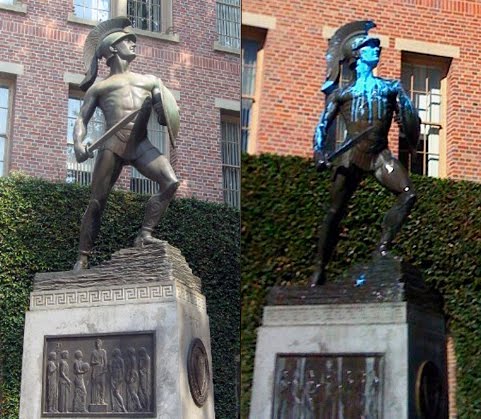 Sometimes UCLA beat us to the punch.
Game week was big doin's.
There was the mid-week bonfire where a stuffed teddy bear was tied to the stake and a nice toasty bonfire ensued while Coach Robinson introduced the players and talked tough.
Fight On!
There was also some creative trash-talk goin' down. One group on campus sold bruin blue buttons with yellow UCLA script lettering. This button was verrrry special. It had another letter strategically placed before the 'U'. Although humorous in that shocking way, I couldn't bring myself to buy one. I could never wear it of course, but when I was a senior I knew my days were numbered and I thought perhaps years down the road I might regret not having it as part of my collegiate memorabilia.

The last day they were being sold I caved to the rivalry. For the rest of the year it hung on my bulletin board in my west wing room in the sorority house.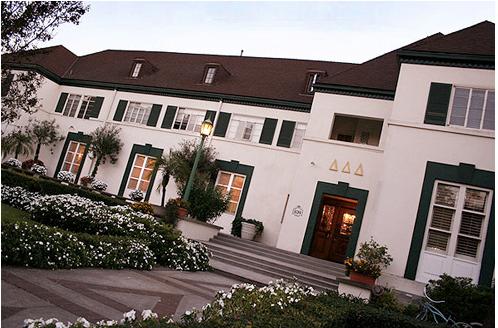 Since 1979 it has been stored in the 'college box' and hasn't been seen since but I know it's there and it warms the cockles of my Trojan heart like a big bruin bonfire of love.
Sheets and Duct Tape
BRING IT.