I need to stay off the computer when I'm having a bad day.
A couple weeks ago I had one of those 'procedures' (hello? 50's) and between the lingering effects of the anesthesia and severe induced PMS in pill form I went straight into a downward spiral with the worst being last weekend. I have almost fully recovered, am off the temporary meds and am starting to feel like my old self again. Whoever the guest blogger was who wrote such a downer post will not be asked back again! (if you didn't read it, don't bother, but it was me).
That was my blog on drugs!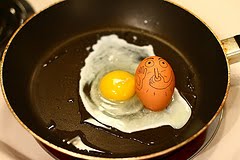 I love my girlie pink-a-licous, sometimes frivolous blog. I love lamenting about the mysteries of life. I will always be out there, honest and open because it's who I am. I love connecting to this wonderful community (
never
in question). Eventhough I still don't know what surprises my life's transitions hold for me one thing is for certain, I much rather be associated with this quote from another Billy Crystal movie ~

"I'll have what she's having."