My sorority sister once told me of a guy who was hitting on her and uttered the titled phrase in a thick foreign accent in one complete sentence and breath. Insincerity was never so charming. It became a catch phrase between us.
I've found some products that sincerely can have an impact on beauty.
Yes, yes, really!
Origins A Perfect World Facial Cleanser – antioxidant with white tea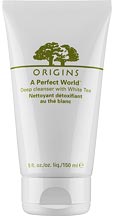 I came across this line as I was looking for Dr. Andrew Weil's line. The cleanser is concentrated so it will last a long time. It smells great and does not dry out my skin in the least. I have now replaced my long time favorite Philosophy's Purity and will never go back.
and speaking of Dr. Weil ~
I also bought this:
Plantidote Mega- Mushroom Eye Makeup Remover Pads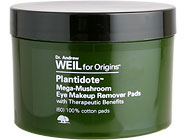 LOVE them! Non-oily and soothing with no irritation for me. Takes off mascara, everything. One pad per eye and one extra between both eyes just to make sure.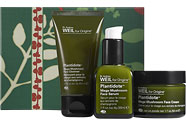 Cleanser – haven't tried it yet but the reviews are great.
Face Serum – LOVE, love, love
Face Cream – good for me at night but I also see a difference on the back of my hands since I also use it there.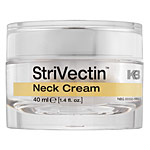 Non-greasy, great texture and virtually no smell. Note to younger women ~ use sunscreen on your Décolletage! Freckles may look cute when you're younger but you know what they say…"a tan is just another word for sun damage."
I also love Dr. Denese's products.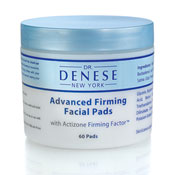 The Advanced Facial Firming Pads
are the best to exfoliate every morning and night. All of her products that I have tried, and there have been many, I find effective and great. She sells them through her own website and through QVC.
Just thought I'd share my finds today since I love reading what other people have to say about their favorite products.
Have a beautiful day! 🙂