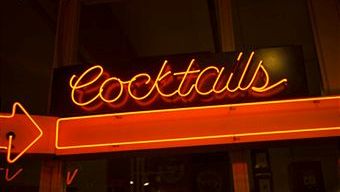 This is a
p
rimo martini.
It's called
The Lush
and I had it last weekend.
So yummy!
Very simple:
Raspberry Vodka
Tuaca
I asked the bartender for something similar to a Cosmo and this is what he recommended. I hadn't heard of Tuaca but it was gooood! The bartender described it as a caramel colored vanilla based liqueur. I had never tasted either ingredients before so I was game. It was made in front of me so I can only tell you amounts by what I saw.
Fill a standard mixing glass with ice. Pour the vodka 2/3rds from the top of the glass. Fill the rest of the way with the Tuaca. Shake and pour. Serve with a lemon twist and a chunk of dry ice.
Such entertainment!
I am a sucker for dry ice in a cocktail.
I just love the fog and the tiny perfect circles that float up into the air.
Enjoy the weekend! Cheers!
"One For My Baby" ~ Frank