With the windmills of my mind on
A
utumn this week how cute are these
mugs
from Crate & Barrel, one of my Happiest Places On Earth?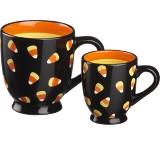 Paired with
Halloween Hot Cocoa
…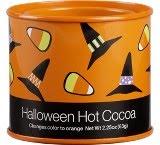 … or make your own spiced tea ~
2 cups orange flavored drink mix (e.g. Tang)
2 cups white sugar
1/4 cup instant tea powder
3/4 cup lemon-flavored instant tea powder
1 teaspoon ground cinnamon
1 teaspoon ground cloves
DIRECTIONS
In a large bowl, combine orange drink mix, sugar, tea powder, cinnamon and cloves. Mix well and store in an airtight container.

To serve, put 3 teaspoons of mix in a mug. Stir in 1 cup boiling water. Adjust to taste.
Presentation idea: Put the tea mix in a small cello bag (lollipop pop size would work well) and place it in the mug. Tie the bag with orange and yellow ribbons or raffia and add a cinnamon stick and colorful fall leaf in the ribbon knot to top it off.