Did I ring your door bell tonight with a
Back-to-School
Mom's Basket?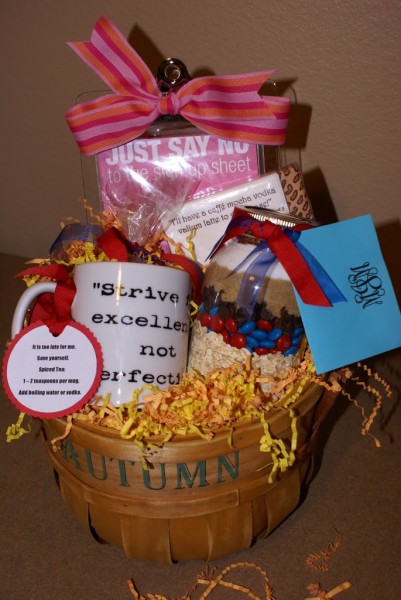 I just thought it would be fun to surprise you!
I hope you'll think it's fun too!
I saw a few things and they reminded me of you. It all started when I saw this cute bushel basket at Michael's for 40% off! How could I resist?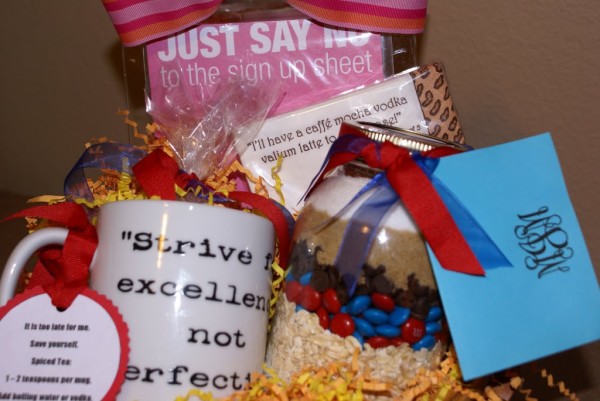 When I saw this…
"Just Say No To The Sign Up Sheet"
pad and clipboard from Preppy Paper Girl I knew it had your name on it. I loved volunteering at school and I know the work continues thanks to your generous spirit but being in the trenches together as we had been for years and years we sometimes felt like the saying on the napkins, didn't we?
"I'll have a caffe mocha vodka Valium latte to go, please."
Amen, sister!
But knowing you could use some time to relax on your own, I put together some
spiced tea
for you to enjoy and placed it inside a cup whose saying we can both relate to –
"Strive for excellence – not perfection."
Easier said than done for us!
Of course, I had to put my additional two cents on the tag with the instructions of how to make the tea. Something only we would understand.
I made some Titan Cookie Mix for you to bake some school spirit and have the aroma of something delicious baking when your boys walk through the door. I got this idea from Bakerella and blogged about it here. I hope your boys think the cookies are as yummy as mine did. I put a picture of the school's mascot on top of the jar and used m&m's in the school's colors, did you notice?
I made Collegiate Cookie Mix for the mom's of new freshman this year too. Cal, Dominican and U of A. It was so colorful! But we all share the same THS spirit!
Go Titans!!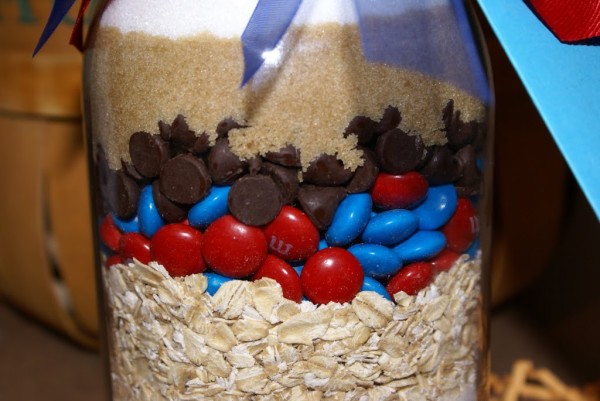 I sure will miss our Friday night gab fests on the bleachers and as I said in my note, my Titan Tush Cush is in the Smithsonian waiting for yours to join it in a few years.
Have a wonderful and successful year to all our parent volunteers who make such a difference to our schools by their commitment and dedication.