I did it.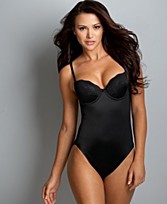 I bought one of these.
Industrial strength spandex.
After trying on 4 of them.
In a small, small dressing room.
Without air conditioning.
I was pulling (yanking) it up around my hips when my hand slipped and smacked me in the face as if I really needed the added encouragement.
Only further proof it is down hill from here.
"Sexy Back" – Justin Timberlake