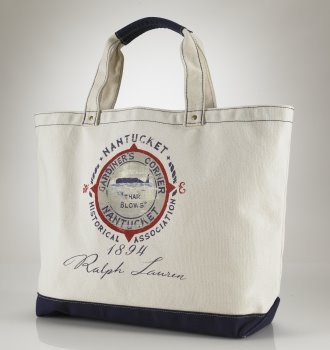 I just love Nantucket and since I've written about my love affair before I'll spare you the wonderful details but whenever I find something related to my special island it captures my attention.
This Ralph Lauren tote is a collaboration between RL and the Nantucket Historical Association (NHA) to restore the Gardiner's Compass Rose Mural which is from the 1930's and happens to be located on the side of the RL store.
All proceeds from the sale of the tote go to benefit the NHA. I guess I could just make a donation to the NHA for $75 but what fun would that be when I could carry this around too?
I do believe that is called a 'win-win situation.' 🙂