I'd like to thank everyone who entered my give-aways for the month of June.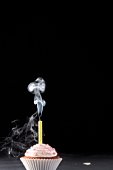 I had a great time and you made it so much fun celebrating my month of festivities. I have some wonderful new blogs to begin reading from you leaving lovely comments. Thank you for all of them and for your enthusiasm, sense of adventure and fun!
So without further ado ~
The winner of the "Come Fly With Me" Give-away is …
P

ink In A Sea of

B

lue.
Congratulations!
(

Coffee, Tea or Me

just came in from Amazon today and I haven't even opened the box yet.
I'm so excited to take a small peek!)
True Random Number Generator 1 63 53