The first Sonic in South Orange County has opened. I have never been to one and have only seen the commercials on TV. This one is on a lot the size of a postage stamp and people are so enthralled with it that they are parking two streets up in a Target lot, walking to this place and standing in line outside of the restaurant.
For any SoCal gals out there in the Pasadena area there will never be another drive-in like Twoheys on the corner of Huntington Dr. and Atlantic Blvd. It has been in business for 66 years.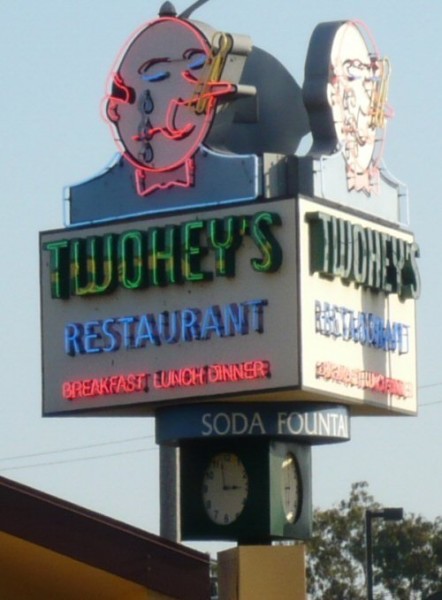 (He is crying because it is the 'Home of the little Stinko' – a burger with onions)
They have THE BEST onion rings EVER!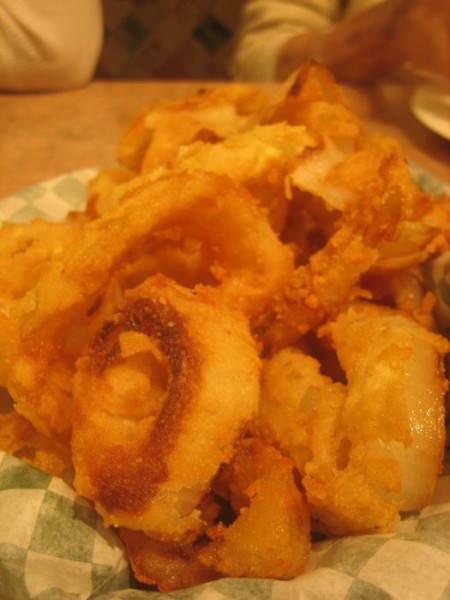 None I have ever had even come close.
The elder Mr. Twohey once told me they were made with special onions and cracker meal.
Flaky, light, and greasy where the salt sticks and the onions are thick!
Really, does PMS food get any better than this?
They were also known for their frosted rootbeers (like rootbeer and ice cream blended together), #2 hamburgers and scooner cup hot fudge sundaes (bittersweet or milk choco)!
Oh yeah. This is what I'm talkin' about!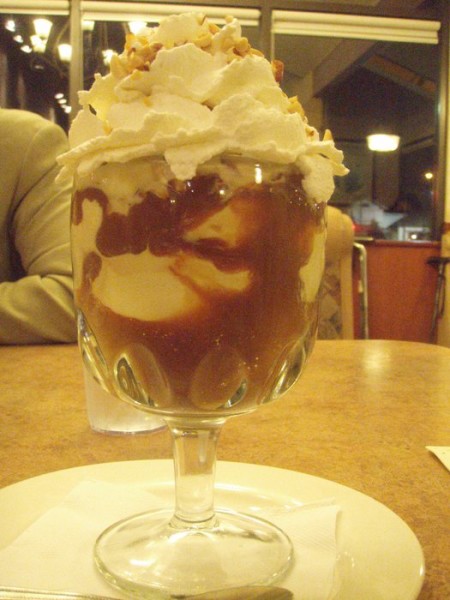 For you hot caramel fans out there.
At least 5 highs schools used to peacefully assemble after football games at the drive-in. Then they tore down the drive-in, sold 1/2 the property or leased it out to In n' Out Burger and built another building that never had the same warmth or charm eventhough it was three times as large. Often times bigger is not better unless we're talkin' hot fudge sundaes.
Nothing will replace Twoheys in my heart or fat cells (it is still in the same location as are my fat cells) but I am willing to give Sonic a try eventhough it's a chain.
I am so hating my NutriSystem existence right now.
What is the Sonic draw?
What is it that you would recommend that is a must have?
UPDATE: We came. We saw. We conquered. We were disappointed.
Whoever heard of a drive-in where you press a button to place your order and are not greeted by a live waiter or waitress? 45 minutes later our BAGGED burgers arrived – cold. Granted, it has been a few years since I have been to a real drive-in but if I wanted take-out to eat in my car, I would have stood in line to speak to that speaker box instead. I was expecting the tray on the side of my car, china and our drinks in glasses. I cannot get over the fact we were handed our food in bags. This is not even close to an authentic drive-in experience. I will n-e-v-e-r go back again no matter how good the ice is.
Oh. By the way, in the above pictures taken at Twohey's, when they had their drive-in the onion rings and all food came to you on Buffalo china plates and the sundae in the glass schooner. You turned your lights on when you were ready to order or when you needed something. The cars faced eachother on either side of a long island where the fountain treats paraded their way past your car. This was added entertainment in itself and the best marketing I have ever seen. Something that is totally absent by using a bag.
"Cheese Burger In Paradise" – Jimmy Buffet