When you're dining in da 'hood….
you can still entertain elegantly while being under siege.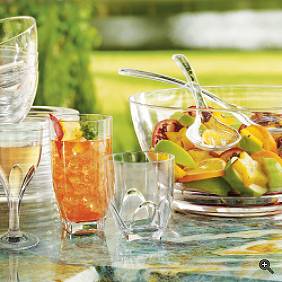 "Our
Polaris Polycarbonate Outdoor Dinnerware
looks like crystal but won't break like it. This collection is crafted of high-quality, transparent polycarbonate —
the same material used in bulletproof glass and riot shields."
~ Frontgate
I know what they were trying to say here but after living in LA and having experienced a sniper attack on my university owned apartment building complete with SWAT team and having to evacuate for a bomb threat at 3 AM, this struck me as being funny.
Gosh, I miss my college days at USC.
Good times.