I have no idea why I am regressing to my childhood this week.
Perhaps I am feeling insecure starting a new diet that I know will be challenging for me. I just wish I could wiggle my nose….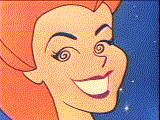 Thursday night was my favorite TV night because Bewitched was on. I always thought if I could be like Samantha I could get Tony Tumasone to love me, my homework would be magically done and I'd have straight hair. That was all I wanted at eight and nine.
Now I'd settle for a constant clean house, shopping that gets magically done, fitting into my skinny clothes and having straight hair. Still.
I especially liked the black and white episodes when Samantha and Darren first met and were newly married.
Do you remember this?


It was Elizabeth's white gold pave heart necklace. It was given to her by her then director and husband, William Asher. She lost the original and had two others made using rhinestones and wore them in many episodes. The chain was fixed at two points on the back of the heart and was stationary. It would just grace the neckline of her shifts ever so slightly.
If I would've known then what I know now, I would have ditched Tony for one of these in a nose twitch.
Oh, BTW, 'tinka tinka tee' is the name for the sound of when Sam twitches her nose and is made using a xylophone.
"Witches honor."
"Bewitched Theme" – Warren Barker, original composer