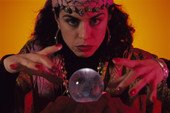 Sometimes we are just too close to a situation to be objective. This is a time when we need to seek the assistance of someone who is gifted and has the ability to see into the future. This is when I call my friend who is a seer.
My dear, dear friend Suzi whom I have mentioned before is this person for me. This is just one of her many talents in the astral plane of the shopping world. She can visualize complete outfits on others and especially on me without a second thought.
She likes fashion and shopping quests. Yesterday, I put her on task to find me a dress online for the July wedding I'll be attending. This morning I woke up to nearly 10 emails. I always put my trust in her but I start out slow. It is like this dance we have. Our convos are also taking place by email.
These are a few of our actual emails:
Dress #1 – Retro Dress ~
Suzi: "Can you see I've gone back to the 60's? May I take you with me?"
Me: "I look enough like Mama Cass already. I don't have to wear the costume."
Suzi: "That's harsh."
Dress #2 ~ Black Dress ~
Suzi: "This would probably be too big but you could have it altered and it would be such a cool and fun backdrop to shoes and bag and earrings. Black color of course."
Me: "Kill me now."
Suzi: "All you are doing is looking at the size. Try to picture great earrings, bag and shoes. The dress is just a blank canvas and by the way very modern. I thought you trusted me."
Me: "This is a blank canvas the Last Supper would fit on."
Suzi: "Well, I would love to suggest junior size 00 but I am thinking that would not be flattering. (she is so gentle) You must be a little open minded and it will cost you nothing to try these things. Perhaps I am wrong but I doubt it. Do you really want to go to the matronly stuff that is mostly available???? It is a nightmare out there. Take a look and perhaps I will be more appreciated."
Dress #3 – A Contender ~
Suzi: "Sadly, only available in size 18 but at $102 you could spend $50 and have it cut down to fit you perfectly. This is gorgeous!"
Me: "Yes, 18 is not big enough! Maybe they can let it out!"
Suzi: "You still must be on your period. You are light headed and have no idea what you are saying. You know our lady (seamstress) can do anything. This is the only one left in any size. Humor me, order this and the deep v 'last supper canvas' and let's just start!!!!!!"
Me: "Is there now industrial strength Spanx out there?"
Suzi: "Yes!"
So with self-depreciation out of the way, my resistance fading as it always does due to need and sincere appreciation for her gifts, she hangs in there with divine insight, confidence and determination like I've never seen. I see 5 more emails have come in.
Gosh, she is wonderful.