"Aww shucks!"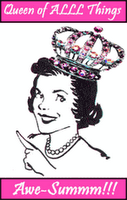 'Thank you' to ShabbyChicks for the awesome award of
Queen of All Things Awe-summm!!! It was so thoughtful of you and I love it! Suzanne's blog is brimming with Florida sunshine (which is her personality), insights, recipes and fun.
I read her musings every day and you probably do too!
And…who wouldn't love to have the honor of this retro queen grace her blog with not just a tiara but a full jeweled crown resting on her majestic crowning glory complete with a string of pearls! If I could Photo Shop her holding a pink martini I would but she is perfect just the way she is!
So, as Queen and recipients of this dubious honor, we are to:
1.List seven things that make us awe-summm.
2.Pass the award on to seven bloggers we love.
3.Tag those bloggers to let them know that they are now Queens of All Things Awe-Summm.
4.Don't forget to link to the Queen that tagged us.
5.If you would like, copy the pic and put it on your sidebar so everyone knows that you're a Queen.
It's kind of hard tootin' my own horn but here goes…
My 7 Things:
1.
I always put my family first.
2.
I have raised with my husband, two sons who are model citizens, respectful and caring of others and have instilled in them a love and passion for learning. Although these fine attributes might be their own doing, I am taking most of the credit being a SAHM and if they were your sons, you would be doing the same. 🙂
3.
I am very sentimental and appreciative of others who contribute their time and talents, especially to students. I once wrote a letter to a former high school teacher 15 years after I had graduated thanking him for the impact he had on my life. The response I received from him was overwhelming and he framed my letter and hung it up in his office. I couldn't believe he was so touched by this gesture. Every year I 'encouraged' my sons to write thank notes to their teachers (as wonderful as they are they're still boys and this is not their favorite thing to do) and I also write my own notes to teachers to thank them too. Now I am 'encouraging' you with the school year ending to get those pens a movin'! 🙂
4.
I always think someone could be a potential new friend. 🙂
5.
I really do make the best chocolate chip cookies in the world from my grandmother's recipe that has a secret ingredient. 🙂
6.
I only know of one other person who knows the lyrics to more songs than I do and I humbly acknowledge his superiority in this venue. Congressman, this is you. 🙂
7.
I throw the best themed parties, or at least I think so. 🙂
As Queen (of my own blog), or Mistress of My Own Domain, (if you watch Seinfeld), I declare that today this awesome award in turn be given to these wonderful queens of their own blogging queendom:
All Things Southern & Preppy
Annechovie
Etiquette With Miss Janice
Petunia in Paradise
Pink In A Sea of Blue
Posh Mama ('shhh' – private blog)
Stella's Mom

You ladies, are wonderfully awesome!