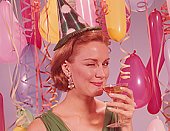 I LOVE the month of June &

"All Things Summer
!"
To celebrate the official kick-off of summer and my birthday this month (Geminis – yeah!) it's time for me to
host my very first give-away!!
I am so excited!!!
I'll host a give-away once a Week for the month of June (except for the last week that bumps into the July 4th weekend) ~ so that is
4 spectacular summer give-aways!!
For this first week, I'd like you to know…
I think you are wonderful!
So what better way to show you by giving you
philosophy's
'I Think You Are Wonderful' gift set.
It is a deelish duo of mandarin orange and cherry scented 3-in-1 shower, shampoo and bubble bath gel.
It just says freshness & that summer has arrived!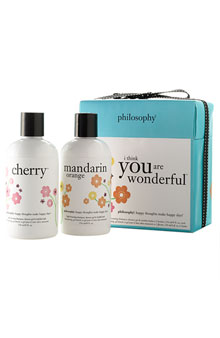 I love the philosophy line and if you aren't already a 'philosophy girl', you will be after this!
philosophy is a wonderful line of fragrances, skincare, bath & body, make-up and hair care products.
So RSVP and come to the party!.…
This is all you have to do to enter:
1 Point: Leave one comment (your rsvp) so I know you would like to be entered.
Extra Point: Sign-up to follow Pink Martinis and Pearls and become one of my readers!
I love to find new blogs to read and this is the best way for me to find you.
And I love finding new blogging friends along the way. 🙂
Extra, Extra Point: If you want an extra, extra point let me know you have posted my Martini Sippin' Birthday Girl (on my sidebar) on your blog with a link to my give-away so we can all have more fun!
That is 3 chances to WIN!!!
This entry will be open to all and ends on
Friday, June 5th at midnight Pacific time.
The selection of the winner will be chosen by a random generator.
~ So grab your sunscreen, a pink martini and your pearls and let's partay the month of June away!!
The best of luck to YOU!