High tea.
Those two simple words evoke visions of crisp white linens, a bud vase with a single perfect bloom, gleaming silver, the aroma of warm, sweet cream scones accompanied by a pool of ruby hued preserves and fluffy clouds of Devonshire cream.
Oh yes, and tea.
When the little bundle of joy has arrived.
An invitation to a "Sip & See Party".
For those of us who prefer to take tea whilst we oogle.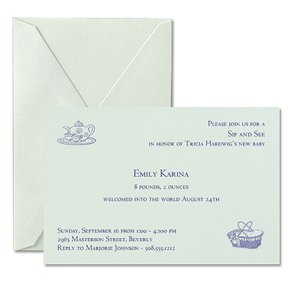 "Thank you, you have been such a lovely hostess. Here's a little something for you".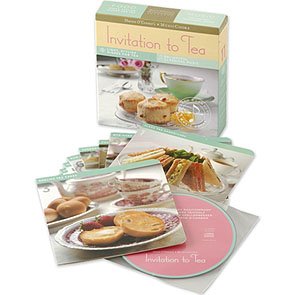 It includes 16 recipes on washable cards, detailed beautiful photos, tea quotes, entertaining guide, cook's tips, shopping lists and a CD of chamber music to add to the bucolic scene of having tea at the manor.
I'll be Mother and pour.
Tea in full bloom.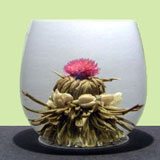 Silver needle white tea bouquets.
A garden awaits in your clear teapot.
Just add water.
All photos link to the item's webpage.
Music to nibble your crumpet to: "Tea For Two" – Benny Goodman