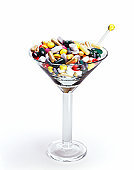 This bug is bad. Really awful.
If anyone knows me well they know I do not like taking any pills whatsoever. No vitamins (although I will force myself on occasion as I am trying to get in the habit of Omega 3) and no drugs of any kind. I am convinced it must be a past-life thing but I don't care to regress to find out what that is all about.
I just want some relief and being the desperate person this bug has lead me to become, I am now on antibiotics, wishing I would have done more Kegels and have gone through an entire box of Benadryl as I go from the couch, to bed, and back again. My child is convinced I have the swine flu and looks at me very worried. No fever or sore throat so I believe I am in the clear and I am writing so I am taking this as a good sign although I don't have the interest to even click on the J. Crew email ad that came in today with 20% off online purchases so I know all is still not well.
(that was my attempt at some bedside humor)
I am writing with a plea.
What remedies work for you? My mother believed in hot water and whiskey right when she felt a cold coming on but if you took it when the cold had set, it would make it worse. It was the only time I ever saw her reach for the hooch. That bottle of Canadian Club must have been 20 years old if a day.
I would appreciate all motherly advice, old wife's tales and known wisdom should you care to send my way.
Thank you.