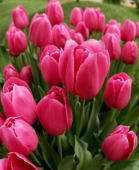 In 1913 the Russian composer, Igor Stravinsky, premiered The Rite of Spring (English translation). Saying it caused quite a stir, would be putting it mildly. It caused an all out riot. The rhythms were primitive and asymmetrical. There was discord and dissonance in the melodies. The dance was violent depicting wild pagan rituals. Fistfights broke out among the audience. The Paris police were summoned and the composer who fled the theater mid-scene was reported to be inconsolable.
I feel Igor's pain. My personal rite of spring also brings a riot of panic. All winter I have given little thought to the assumed pastoral symphony that surely would await me in the spring. Then it happens. It is a beautiful day full of sunshine and warmer temperatures. Without thinking I shed a protective layer of clothing. Uh-oh. I should not have done that. Instantly I receive the annual invitation. It reads:
"You have been cordially invited to attend summer.
You have 3 months to pull yourself together.
Please check your calendar to see if you will be able to attend."
RSVP ASAP!
My RSVP is made by looking in the mirror. No, really looking in the mirror. Full length in the harsh natural light of day. My primitive and pagan rituals of winter culinary sustenance has lead me here. Something is not right. I am too symmetrical. My inner size 8 is fistfighting the perceived heavyweight champion of the world's reflection. I am wishing the Paris police could be summoned to restore order but instead I feel the fashion police in hot pursuit and quickly closing in. I am tempted to leave the scene, despondent and disheartened as Igor did. I am a more fortunate composer though, as I only have one patron to please. I plan on stepping up more rehearsals comprised of walking and Pilates. I am hopeful this will bring me to the crescendo of summer with a standing ovation.