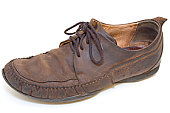 This may be the Year of the Ox but this is the Month of the Other Shoe and from now until the beginning of April, we and countless other high school families across the nation are waiting for it to drop. Thus begins March Madness when seniors for the first time in their lives suddenly show interest in the US Postal Service.
College acceptance letters will be mailed out beginning this week and the pressure is on. It's not like they can do anything about it at this point. Application deadlines were met during the December holidays or as I called them around our house, "hostage days" since we couldn't spare any time away from the computer as deadlines approached. Novellas and resumes had to be constantly worked on and honed. The recap on this process itself could fill its own blog and empty a bottle of scotch.
The kids are nervous. Friend so-'n-so found out today. Another friend the next day. "Why haven't I heard anything yet"? "Why is there an interview for an alumni scholarship when the letter hasn't come yet"? "What does this mean"? "What does this mean?"
And this is just me asking.
The urban legend is true about the fat letter vs. the thin letter and when I grabbed the mail today, there was neither. Still nothing. I would have to deliver the news when son2 arrived home but at this point there is hope because perhaps, no news is good news. Now a days, many colleges list acceptance results on line with a disclaimer to do so in privacy. I know exactly what this means and it's brutal. When 38,000 apply for 2800 spaces, it's best to be alone when opening that webpage. So we wait. I watch the clock and listen for the familiar sound of the mail man's jeep turning the corner. I walk to the mail box with my heart in my throat. "Please let there be a fat letter……."!