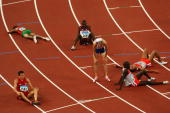 This is how I felt after listening to the AIG Congressional hearings today.
I happened to turn them on before heading out. At first I could not tear myself away but there came a point I decided I could not make it to the finish line.
I am frustrated.
I am angry.
I am exhausted.
If I wasn't feeling all these things I would actually be encouraged by the non-partisan collective of those on the committee.
Recently a friend shared with me her mixed feelings about blogging of handbags when people were losing their jobs and homes with the feeling so tenuous across the country. I understood what she was saying and I had to agree somewhat. I also mentioned to her that the happiest music and the golden era of Hollywood in the 30's were born out the darkest period.
According to my parents who lived through this, people appreciated the little they that were able to have. There was more effort to dress a little nicer and when they could go out on the town it was truly special and something to celebrate. Nothing was taken for granted, not eating together as a family, not what we would consider a menial job to help out and take some of the burden off of others. Nothing. I hope we can find the strength of our parents and grandparents and be happy with less than we are used to having. Although it is easy to be discouraged with everything that is thrown at us, I hope it renews faith in both our own capabilities and resourcefulness and can awaken us at profound levels.
Along this jouney, it helps me to see pretty 'things' whether or not I can pursue or purchase them at this time. I encouraged my friend to keep blogging about colorful, bright handbags, shiny baubles and playful trinkets because it is what I intend to do.
It is hopeful.
It is happy.
It is the golden era of yet another age.