Thank you
Preppy Player
, for the thoughtful blog acknowledgment and shout out. Since I listed my seven favorite things in a recent post, and Preppy mentioned getting to know me better, I am going to shake up the rules a bit and list seven things that only a few people might know about me. Did you know…..
1.
Why "Pink Martinis and Pearls?"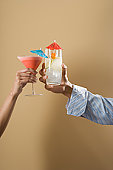 Although I rarely imbibe (really), I might have a cocktail if we go out for dinner with friends. Because I am usually in the 'margarita rut' of not knowing what else to order, my mantra is…
'if it's pink, it has got to be good'.
Therefore, I will see what is on the cocktail menu that is pink and go from there. A prior post gives insight as to why I love cocktail umbrellas. Pearls are classic. They can be worn with the little black dress or tucked behind the neckline of a white tee-shirt paired with jeans. They are also my birthstone and were a wedding gift from my husband. So when I wear them they remind me of my birthday, my wedding and my marriage.
2.
I have a passion for wrapping gifts with lavish over-the-top distinction. For example, years ago before it might have been considered acceptable, I wrapped a wedding gift in black moire paper with wide magenta metallic ribbon. Daring at the time, yet a conversation piece.
3.
I rode on a Rose Parade float with a tiara and a sash, a very, very long time ago and my name was read on national TV. Family and friends in other parts of the country thought this was pretty neat stuff.
4.
I cannot listen to my boys' high school musical concerts without tearing up every single time.
5.
Every night I ask the Archangel Michael for protection while we sleep. I ask that angels be posted at every door, window and chimney. I also pray for this protection for any children should they be away from home. This is not an original idea, but I have adopted it and pass it along to you. 🙂
6.
Although I tend to entertain on a Martha Scale of "10" because I enjoy it, I wish I knew simple things to make for nightly dinners.
Any ideas?
7.
My all-time fantasy that I've had since the 8th grade is singing back up with James Taylor.
The mic doesn't even have to be on.