Base Royal Icing:
1 lb.
Powdered Sugar
(does not need to be sifted)
3 Tbl.
Meringue Powder
6 Tbl.
Hot Water
(from tap is fine)
Adding 1/2 teaspoon of light corn syrup per batch is optional. It does give your dried icing a nice sheen but it will also yield a slight softer icing which sometimes I prefer when I'm not needing a really stiff icing for making additional decorations such as flowers. The corn syrup also gives any string work or outline string a little more elasticity which means your icing won't be as prone to breaking when making straight lines.
Make sure your bowl and whisk attachment is grease free.
Why grease free? Grease and egg whites don't mix and the whites will not rise. Give both a pre-wash if they've been sitting unused in your kitchen for awhile.
With a whisk attachment beat all the ingredients on high until fluffy.
Do not under beat. I mix for at least 8 minutes.
Put the icing immediately in a container with a tight lid to prevent it from drying out.
If I know what colors I am mixing I will divide the icing into small containers with lids or fold a wrung out paper towel to cover. The very small Glad disposables are good so you can have a lot of them ready to go and they are inexpensive. The best part is if you get tired of seeing icing and don't feel like washing at the end of your creativity, you can throw them away but I always wash mine out to reuse them.
Consistency is key!
And so easy to get it right.
Outlining Consistency ~
The above recipe is a perfect consistency for piping outlines and making icing flowers and decorations.

"Count to 10 For The Perfect Flooding Consistency"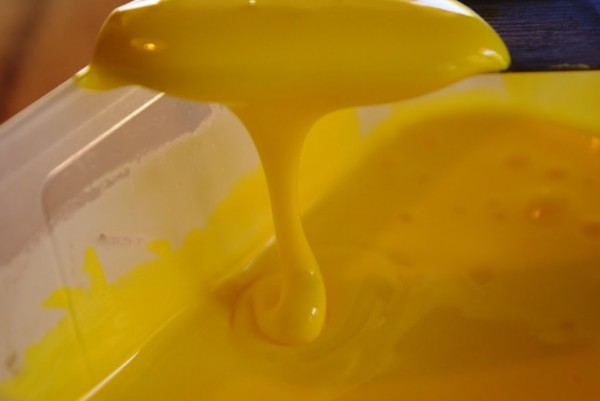 To get the nice smooth icing you see on the cookies it needs to be thinned. Too thin and it runs down the sides of the cookies and will not coat it well. Too thick and it will just sit there and not be smooth.
Here's how to get the perfect consistency –
Count To "10".
Add water a quarter teaspoon at a time for small amounts of icing. Mix it well into the icing. Now pull up a blob of icing on your spoon or spatula and let it drop back down into the bowl. Count to 10. If the blob seems to melt and disappears back into the icing by the count of 10 it will be the perfect consistency. If you can still see remnants of the blob add a touch more water. If if melts back in too quickly then you need to add more regular icing to give it more body.
Colors:
I only use gel colors.
Powders never mix in well and pastes take time to work in. I think every company has gone over to gels now anyway. If you use colors in a jar that need you to scoop them out instead of say, squeezing a bottle, use a tooth pick to dip into the color. Do not re-use the tooth pick once it touches the icing. The color jars will last indefinitely if they are not contaminated with the icing. The color intensity will be higher for royal icing compared to adding color for cake icing. This is due to the absence of a grease base.
* It is also easier to mix the colors if you have thinned out the icing first.