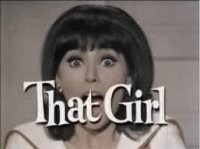 When I was in 5th grade I distinctly remember it being the end of the era of the bouffant hair do on television. The illustrious honor went to Marlo Thomas who starred in "That Girl". She portrayed Ann Marie, a single, aspiring actress in Manhattan with a cool apartment and mod wardrobe, a supportive boyfriend, Donald Hollinger, and plenty of wacky temp jobs until she landed the big roles that always alluded her.

I think she was every 'tween girl's dream of how they wanted to look and be when they grew up. She was independent. She was gorgeous with her flashing, expressive, heavily lashed peepers and perfect smile but it was her hair…. her hair that caused us to run and find our mother's rat tail comb.
She was the first person I noticed who used her sunglasses propped on the top of her head like a head band. She was so hip and with it.

Being the conservative I am, even back then, I waited too long to hop on the trend. By the time I figured out the teased 'bump' adorned with my satin blue ribbon, the new season began in TV land and Ann Marie returned in the fall sporting a modern middle part. Think Gloria Steinem. The bump was no more and was destined to be only a memory seen in reruns.
sniff sniff
There is a relatively new product called the "Bumpit".
(if you click on the link, be forewarned of the initial 'scream' on the site).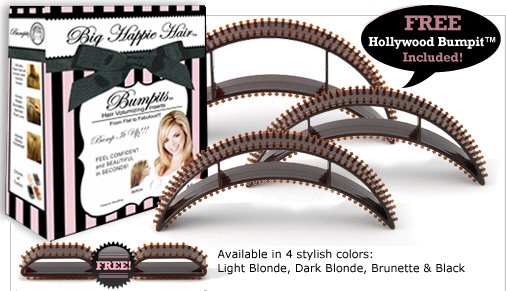 It has sold out recently on HSN.com (I have added the hyperlink to costumer comments.) You can find You Tube missies spending Saturday night at home in front of the camera demonstrating the wonders of this device. Notice they all have thick, long hair or extensions.
Has anyone tried it?
Maybe this time it won't be too late for me to be hip and groovy.
Post Song : "That Girl" – Stevie Wonder